Train Like a Local - The Dolomite Mid-Mountains
The Mid-Mountains of the Veneto offer cyclists a great option to ride in Italy and enjoy some of ciclismo grandi salite  (classic ascents). These climbs are the preferred training ground for local race teams as they prepare for the legendary climbs in the Alps and Dolomites. These passes are normally open as early as April and as late as November, making your travel times more flexible. Do not get the wrong idea, these rides and climbs - though shorter and at a lesser elevation - can be just as challenging, if not more so, than some of the great climbs of the Alps.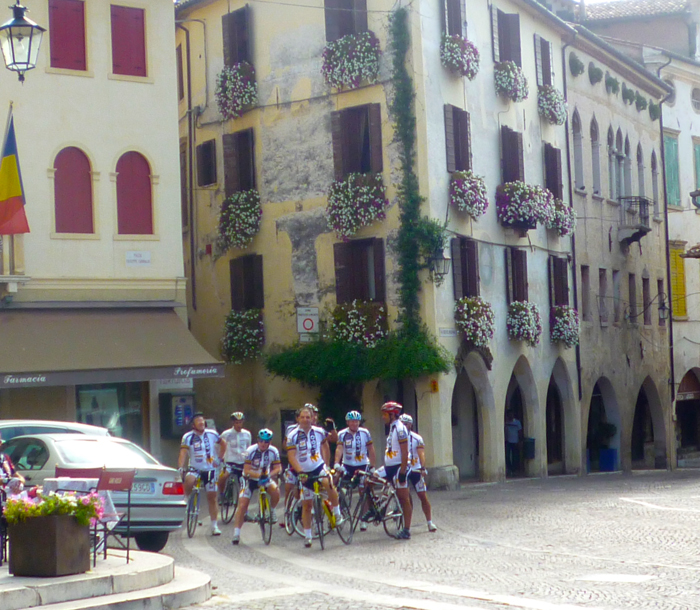 Located just north of Venice, this is a great trip to bring along non-riders or casual cyclists who want flatter terrain to explore the sites while you are out challenging yourself on the climbs. We stage ourselves in some of the loveliest cities in the Veneto, where we are surrounded by Italian culture, history, food and wine. Wine tastings, city tours, shopping, or just relaxing with a prosecco in a terrace cafe, you'll find plenty of ways to enjoy the Italian dolce vita after your ride.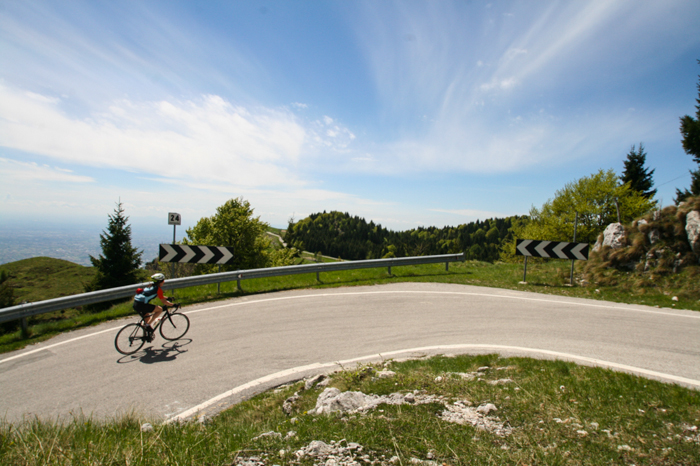 We are not a multinational tour company. We don't offer tours world-wide, or even Italy wide. We specialize in this region of Italy, focusing our passion and energies on creating regional tours that allow our guests to truly experience all aspects of this unique and spectacular countryside. We will introduce you to the varied and challenging terrain, as we enjoy both classic climbs as well as routes only known to the locals.
After your ride, restore your energy with the best of the regional cuisine, and discover the local wines unknown outside of these regions (read my article on the Top Twelve Undiscovered Wines of Northeastern Italy, published in Honest Cooking, to learn what these are!). Plan your adventure with the team of regional experts, recreational programmer Vernon McClure and culinary programmer Kathy Bechtel.
To begin your adventure in Italy, This email address is being protected from spambots. You need JavaScript enabled to view it.. I am happy to provide more details, answer any question, learn about your travel style, cycling experience, and assist with pre- and post-tour travel.

This email address is being protected from spambots. You need JavaScript enabled to view it. to request your preferred dates for 2017.
8 days/7 nights
Tour Cost: $4395 USD ppdo, $300 single supplement
Includes: 6 nights accommodations in 3 star or better hotels, all ground transportation, guide services, all breakfasts, 3 dinners with wine.
We customize our tours around the desires and interests of each guest. You can begin by letting us know how you wish to travel!

Tour Highlights
A week long cycling tour through the Pre Alps hills and mountains of Italy. We will explore areas where the locals ride, routes that are overlooked by most major touring companies:
Summit of Monte Grappa

Our first stop is the premier wine town of Conegliano, where we warm up our legs in the hills of the Prosecco wine zone.
Cycling through the base of the Dolomites, Passo del Boldo and Croce D'Aune to arrive in Feltre.
Some of the most challenging climbs in Italy, including Monte Grappa
The high plateau of Asiago, home to wonderful mountain cheese and meats
The Piccole Dolomites, with challenges such as Passo Coe, Passo Borcolo down to beautiful Roverto.
Daily coaching: climbing effectively, descending safely, and more
Pre-trip training suggestions

Many beautiful smaller cities and towns to explore, a bit off the main tourist path, but rich in culture and history:
Ponte degli Alpini, Bassano del Grappa

Conegliano, the heart of the renowned Prosecco DOCG zone
Vittorio Veneto, site of the last battle between Italy and the Austrian-Hungarian empire in World War I.
A visit to delightful Bassano del Grappa for a tasting of the local digestif, grappa.
Asolo, a quaint hilltop town, where the panoramic views have earned the nickname the 'Town of a Hundred Horizons"
Marostica, where a large chess board in the main piazza hosts a human chess match every other year.
The ancient fortress town of Rovereto, at the frontier of the Austrian Tyrol and Italy.

We'll pass through these cities and towns on our rides, with time to relax and explore at a leisurely pace in the late afternoon, but these and many more options are available to you if you wish a rest day, or if your traveling companion is not an avid cyclist.

Each area we visit will have its signature dishes and traditional foods and wines. We'll enjoy refueling after our active days on local specialties such as:
As with all of our trips, our small group size and local expertise allows us to support groups of mixed levels. So if your traveling companion is not quite ready for the ultimate challenge, we can provide options - perhaps a less challenging ascent up the same peak, or a flatter ride around the base.

Your Expert Guides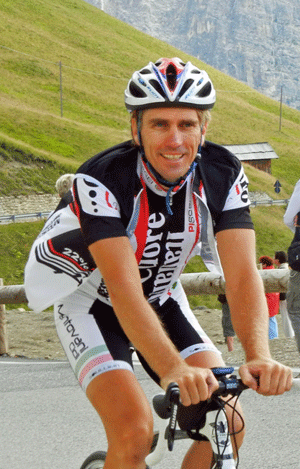 Vernon McClure, our expert in recreational programming, will personally design and lead the cycling on your tour. Vernon, an ex-Army Ranger, has lived in the area for over twenty years, creating and leading adventure tours first as head of Recreational Programming for the US Department of Defense, and then as an independent guide leading tours and performing staff training for several of the major multinational bike tour companies.
Vernon is highly valued for his thorough knowledge of the Dolomites, and is familiar with hundreds of climbs in this region. If you have cycled the Dolomites before, he can find new routes for you to conquer. Vernon has cycled, hiked and rock climbed in this area for over 2 decades, and is passionate about sharing his backyard with cyclists of all levels.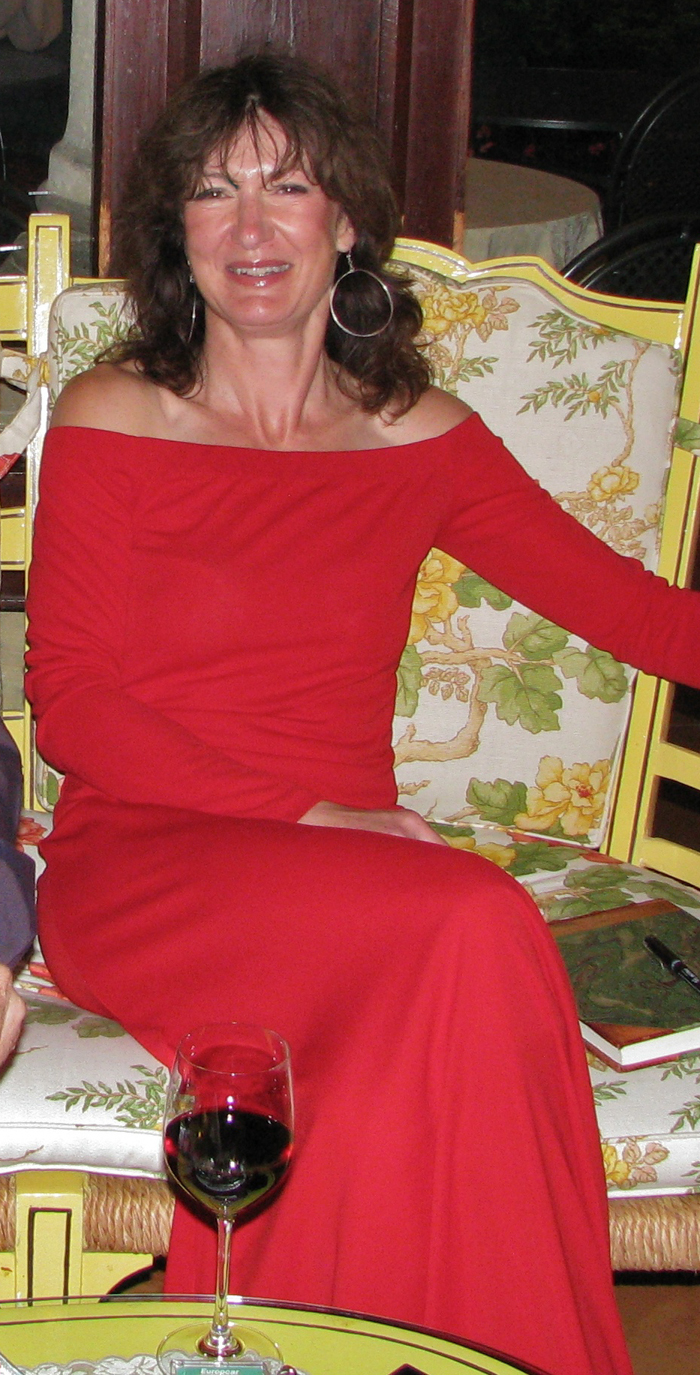 Joining Vernon in the program design and trip support is Kathy Bechtel, an avid cyclist and ski instructor, as well as professionally trained chef and WSET wine certification graduate. Kathy believes there is no better way to restore yourself after a challenging day in the saddle than to savor the amazing foods and wines of the region.
Every meal - breakfast, dining in the evening at wonderful local trattorias and ristorantes, even our roadside snacks - will be an occasion to enjoy the best of local fare. Each day there will benew specialties to try as we learn that each locale has it's own cuisine that reflects it's history, culture, and traditions. Daily wine tastings will be a celebration of wonderful native wines rarely found outside of the region.
 This email address is being protected from spambots. You need JavaScript enabled to view it.