Cycle the Dolomites with Your Own Private Expert Guides
Have you cycled in the Dolomites before and are looking fo challenging new passes to conquer?
Or are you new to climbing, and looking for an introduction to this type of cycling?
Are you part of a group with mixed abilities that would like to experience Italy together, but on different cycling routes that match their skills?
Do you have a group of experienced cyclists who want an exclusive tour where you can cycle at your preferred pace?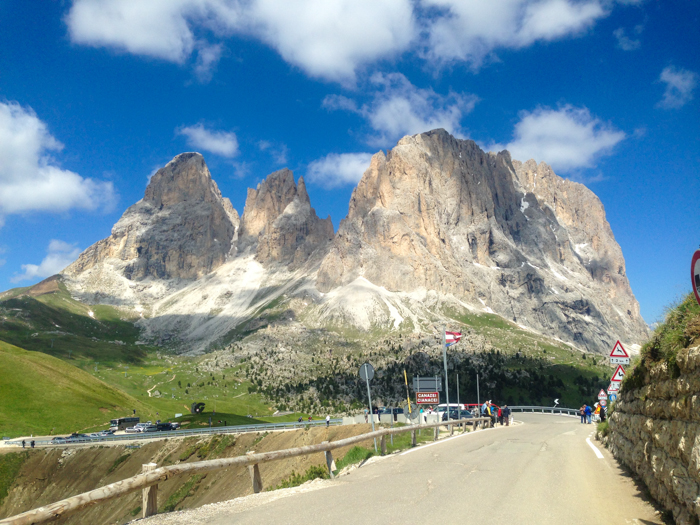 Whether you area seasoned cyclist or new to cycling, the magnificent Dolomite Mountains offer one of the most exhilarating settings for cycling and culture. Let us design a private cycling tour for your group that combines both. It will satisfy everyone's skill levels and riding style and make sure that you experience the best in regional culture, cuisine, and wines during your off-saddle hours.
Why Our Trips are Different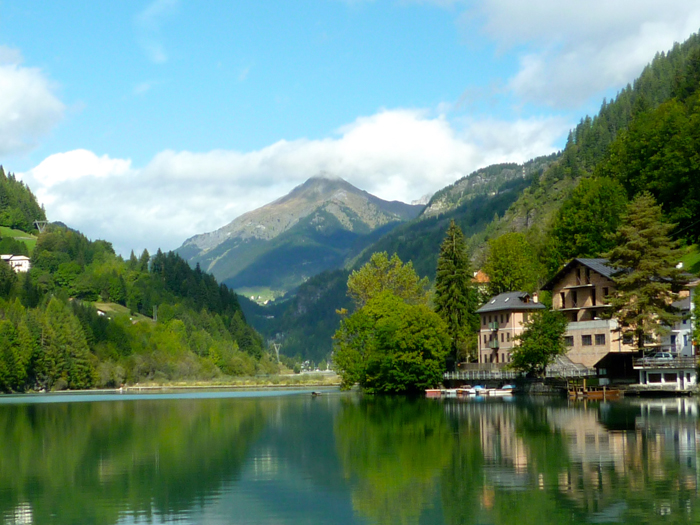 Our trips are truly custom. Private trips are not always "custom" trips. With many companies, a private trip is often a standard itinerary offered to a private group on specific dates. A custom trip is much more. Your group will have a unique itinerary created specifically to meet individual fitness goals and varied interests. Vernon and Kathy listen to your desires and design a custom trip to match your daily mileage, terrain, preferred riding style, accommodations, and budget. Learn more about how we cater to cyclists of all abilities.
We are with you from start to finish. From your first contact, until the end of your tour, every communication is directly with us, Vernon and Kathy, no one in between This means that we get to know you as individuals and your requests don't get lost in translation. We work with you to plan your trip, we greet you at the airport when you arrive in Italy, and we personally oversee all aspects of your tour. We don't outsource our trips to hired guides, we believe your trip of a lifetime deserves our very best service and personal attention.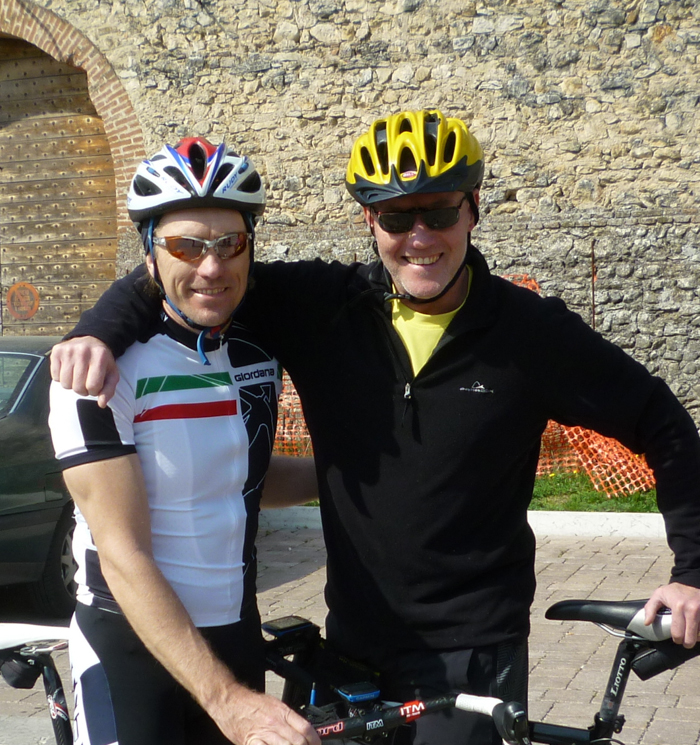 Our private trips are affordable. Our custom private trips are priced the same as our scheduled trips, as we are small, regional, and rely primarily on word of mouth to market our services. Private tours for groups of 4-12 people can start as low as $3600 per person, double occupancy. We also offer a few scheduled trips in the Dolomites, from wine tours to the most challenging climbs in the region.
Start planning your trip of a lifetime. This email address is being protected from spambots. You need JavaScript enabled to view it., or use our Design Your Own Tour form to let us know a bit about how you wish to travel.

Meet Your Guides - and Our Owners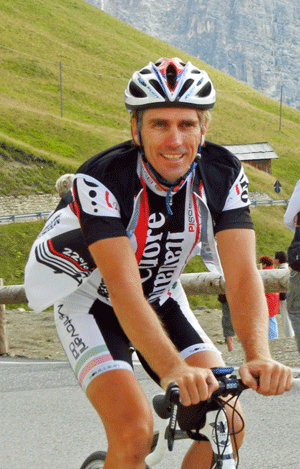 Vernon McClure and Kathy Bechtel, owners and expert guides, will personally design and lead your trip, and be there to ensure everything runs smoothly. They'll work together to handcraft your itinerary, answer any and all questions, and take care of any special requests -- no detail is too small.
Vernon McClure, our expert in recreational programming, will personally design and lead the cycling on your tour. Vernon, recently named one of the "Great Tour Guides in Northern Italy" by Dream of Italy magazine, is an ex-Army Ranger who has lived in the area for over twenty years, creating and leading adventure tours first as head of Recreational Programming for the US Department of Defense, and then as an independent guide leading tours and performing staff training for several of the major multinational bike tour companies.
Vernon is highly valued for his thorough knowledge of the Dolomites, and is familiar with hundreds of climbs in this region. If you've cycled the Dolomites before, he can find new routes for you to conquer. Vernon has cycled, hiked and rock climbed in this area for over 2 decades, and is passionate about sharing his backyard with cyclists of all levels.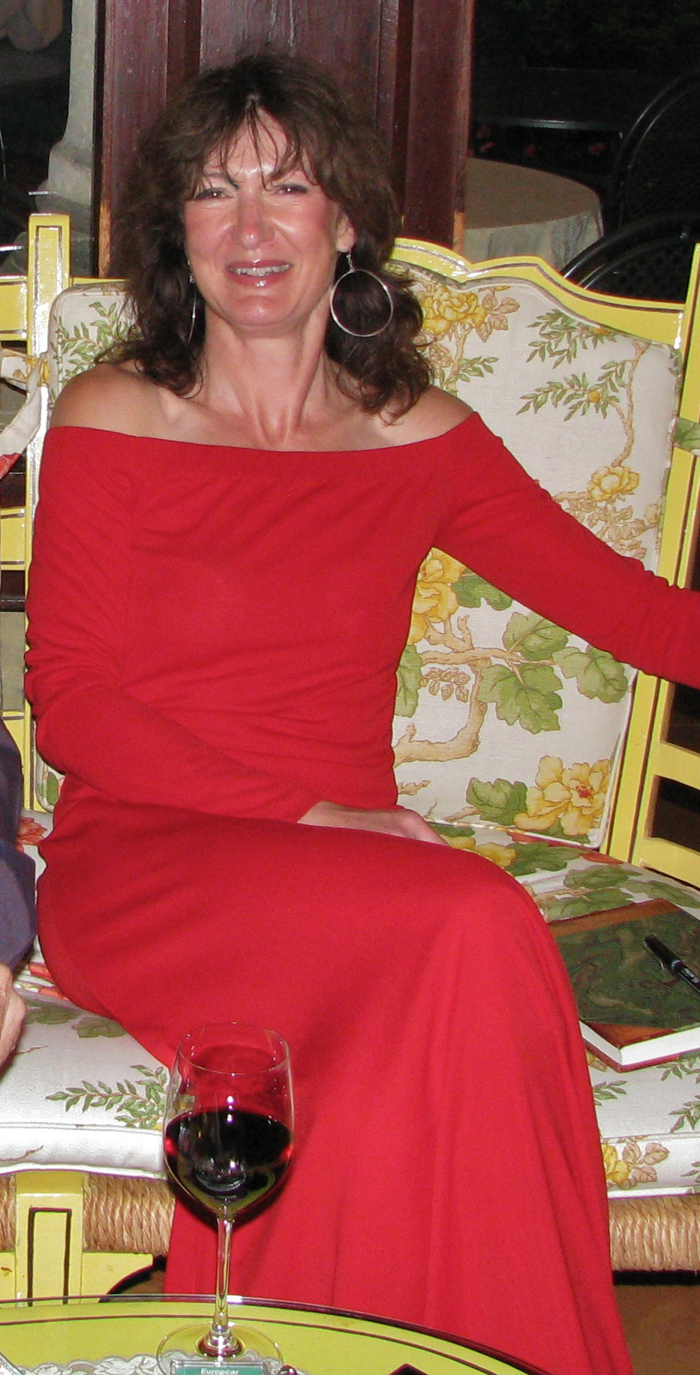 Joining Vernon in the program design and trip support is Kathy Bechtel, an avid cyclist and ski instructor, as well as professionally trained chef and WSET wine certification graduate. Kathy believes there is no better way to restore yourself after a challenging day in the saddle than to savor the amazing foods and wines of the region.
Every meal - breakfast, dining in the evening at wonderful local trattorias and ristorantes, even our roadside snacks - will be an occasion to enjoy the best of local fare. Each day there will be new regional specialties to try, as we learn that each locale has it's own cuisine that reflects it's history, culture, and traditions. Daily wine tastings will be a celebration of wonderful native wines rarely found outside of the region.