One of the loveliest areas we explore on our Italiaoutdoors Food and Wine tours is the region of Trentino-Alto Adige. Home to the majestic Dolomite mountains, visitors find themselves presented with breathtaking vistas around every turn. We are fortunate to have opportunities to visit this region all year round, with dozens of ski resorts to explore in the winter months, and great cycling in the late spring, summer, and early fall.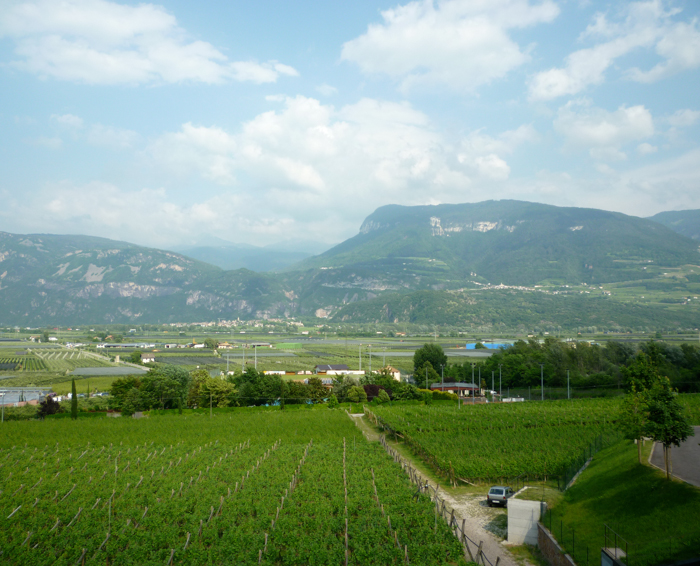 Lest you fear the combination of mountains and biking, rest assured. While this region is home to some of the most challenging climbs in cycling lore, there are many routes very suitable for beginners. The Sudtiroler Weinstrasse, or South Tyrol Wine Road, winds it's way along the Adige River valley, through spectacular landscapes that range from apple orchards and vineyards, lakes and ponds, past stately mansions and medieval castles perched on the surrounding hillsides. All along our route, wonderful restaurants and open wine cellars offer a welcome place to stop and take a break. This is Italy's oldest wine road, and with the region's mild, dry climate and over 300 days of sunshine a year, is the perfect destination for cyclists of all levels.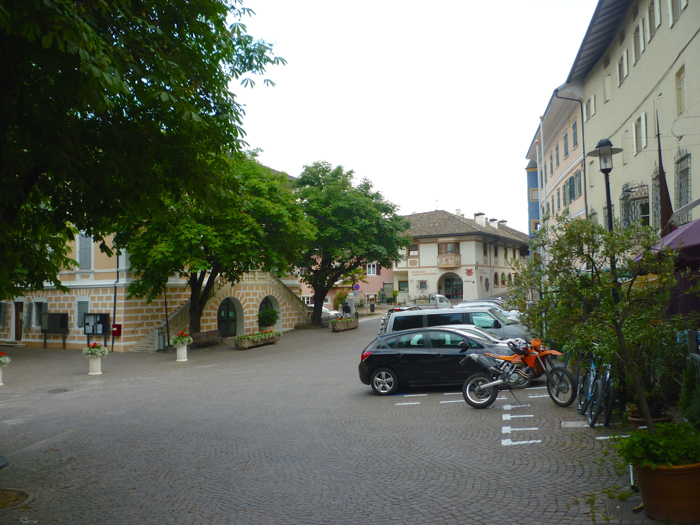 One of the many towns we can visit during a cycling tour down the Weinstrasse, or after a day on the slopes, is Tramin an der Weinstrasse, or Termeno sulla Strada del Vino in Italian. You will usually see the German name, as over 96% of the residents of Termeno use German as their first language, reflecting the diverse mix of cultures that surrounds us during our visits here. Tramin, or Termeno, is located about 20 km southwest of Bolzano. In the wine world, Tramin's claim to fame is the grape that originated here, Gewurztraminer, or 'spicy' Tramin.

Traminer is one of the oldest grapes in the world, and recent studies have demonstrated that it is the ancestor of some of the oldest grape varieties in the world, including Cabernet Sauvignon, Riesling, Pinot Bianco, Pinot Grigio and Pinot Noir. An intensely aromatic and elegant wine, its pink to reddish grapes are naturally sweet, and produce a white wine that is usually off-dry, with a strong scent of lychee.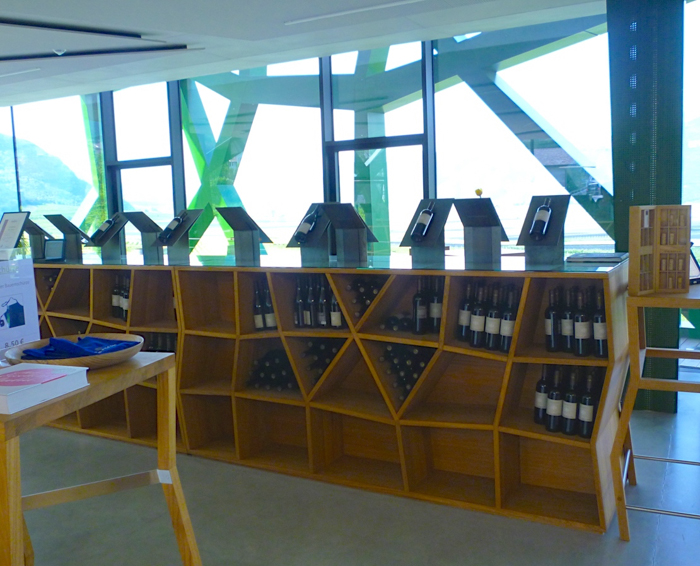 As you enter Tramin, you will find Cantina Tramin on the east side of the Weinstrasse, in a large modern facility with a impressive steel and glass building - this is their cantina, and a wonderful spot to taste a few wines. During my last visit, we tasted wines while we watched the sun drop behind the mountains just outside, backlighting the picturesque peaks.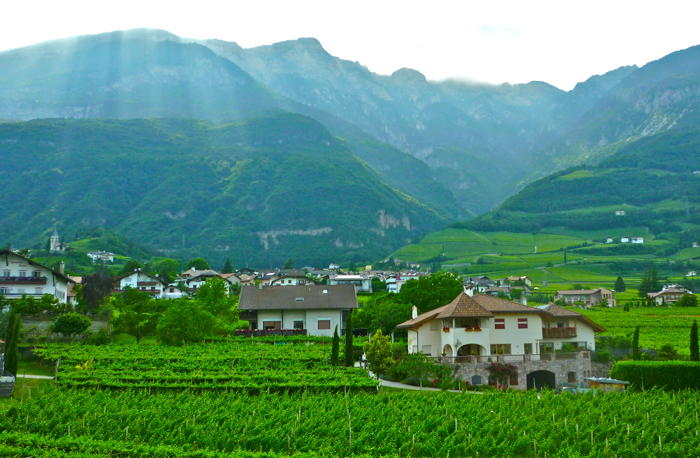 Cantina Tramin was founded in 1889 by Christian Schrott, the rector of Termeno and a member of the Austrian Parliament - recall that this part of Italy was part of the Austro-Hungarian empire until after World War I. Cantina Tramin is among the oldest cooperatives in the region. Today, their wines are created from grapes grown by the 270 member growers. Their vineyards are located on slopes spread between the towns of Tramin, Neumarkt, Montagna and Ora, at an altitude between 250 and 850 m. above sea level. During the day, these hillside vineyards experience wonderful sun exposure and warm winds wafting up from Lake Garda just to the south, and become quite warm. As the sun sets, the temperature drops significantly as the colder air from the mountains drops down and cools the grapes. This contrast between warm days and cold nights creates very balanced, drinkable wines with a fresh and elegance.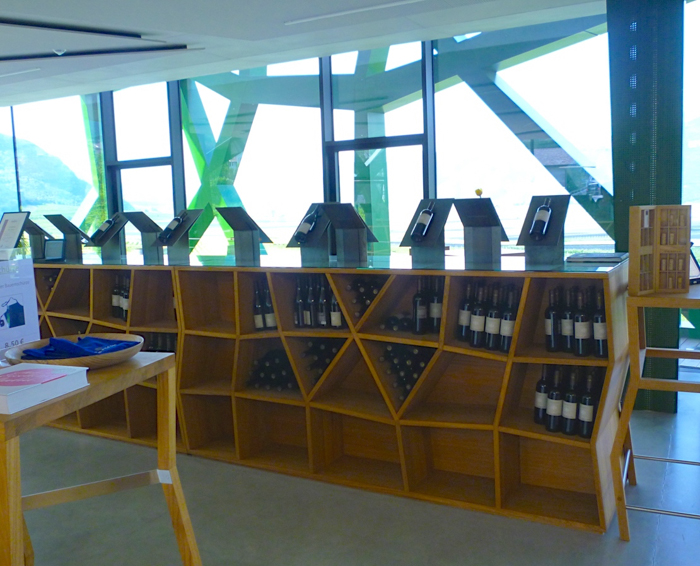 In addition to Gewurztraminer, the Cantina produces many other fine white, red and sweet wines, many from traditional grape varieties that thrive in this region. There is Lagrein, the native black grape of Südtirol - Alto Adige. Additional whites include Pinot Blanc, Chardonnay and Sauvignon, all grapes when grown in this environment display unforgettable aromatics and complexity. For my tasting notes on the Cantina Tramin wines, visit my blog post.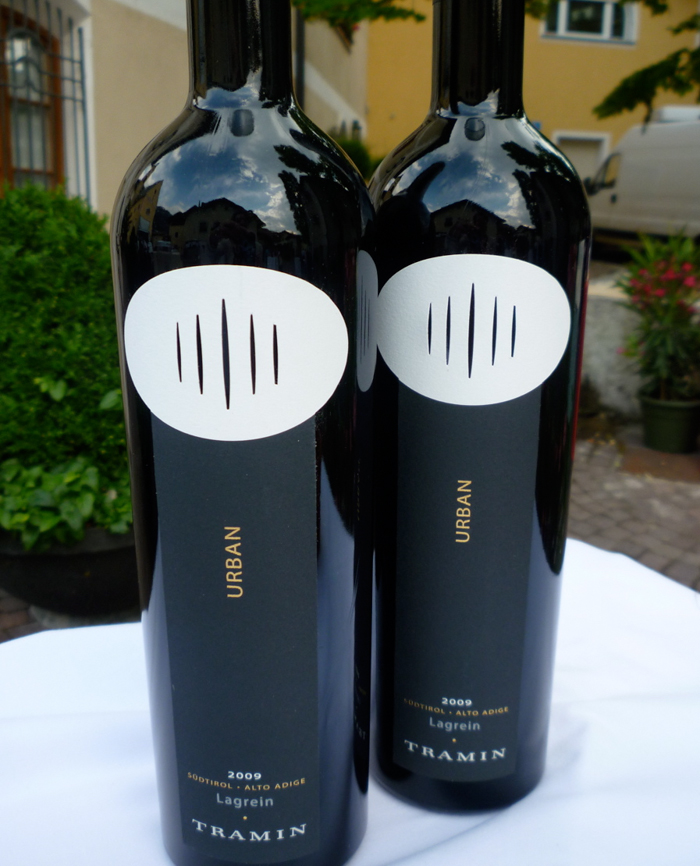 Also located in Tramin is one of the estates of Elena Walch, a winemaker that enjoys an international reputation for her wonderful wines. In 1985, Elena, then a young architect, married into one of the leading producers of this region and took over management of her new families business. The family owned two prestigious estates; Castel Ringberg, overlooking Lago di Caldaro, and Kastelaz, a south-facing, steep hillside above the village of Tramin. Elena dedicated herself to improving the quality of the vineyards, drastically decreasing the yield. The result are premium wines with superb aromatics and a concentrated fruit character. Their whites, including Pinot Grigio, Sauvignon Blanc, Chardonnay, Riesling and Gewurztraminer, are classic, 'old-world' style, elegant and with a firm acidity. Reds are concentrated and intense, with more fruit and less tannins. Walch's philosophy is that the fruit should provide the flavor, "The complexity and the quality has to be in the fruit itself, oak is only used to complement the fruit."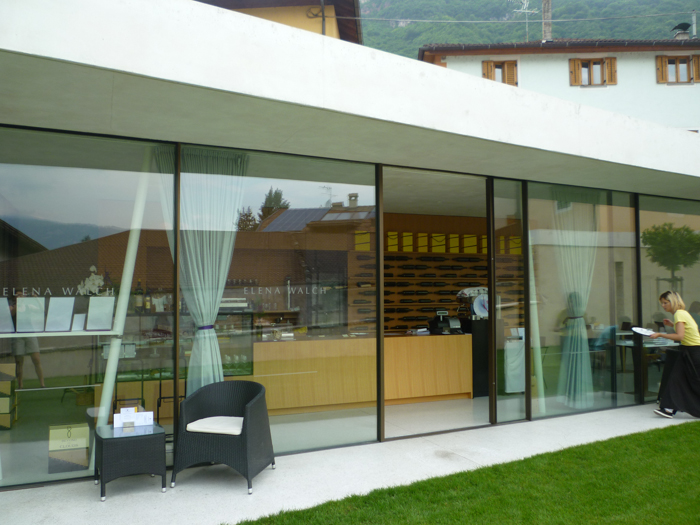 Kastelaz has been producing renowned wines since the Bronze age, as evidenced by the discovery of artifacts on the property. Located just outside the town of Tramin,this estate continues to produce outstanding wines. Wines produced here include Gewürztraminer, Pinot Bianco, and Merlot. Elena Walch has a cantina located in the village of Tramin, a small, lovely modern surrounded by a picturesque garden. A beautiful setting in which to explore the wide range of wines they offer, accompanied by a nice antipasti. My tasting notes for a few Elena Walch wines are here.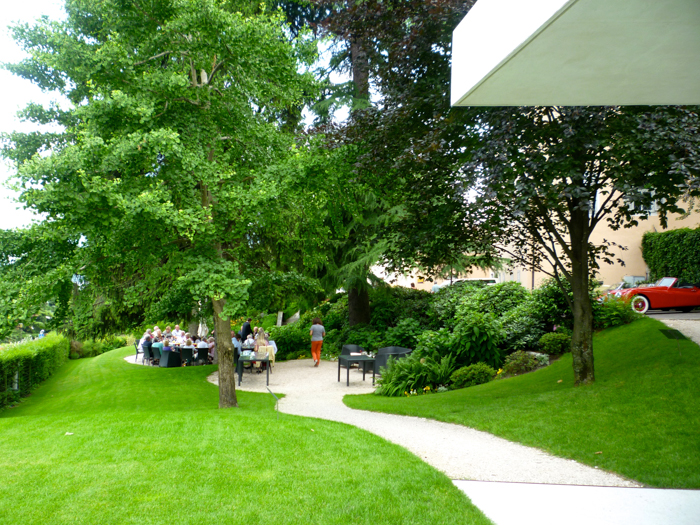 Continuing up hill into the village center, is another cantina well worth a visit, the wine shop, wine bar and restaurant of Hofstatter winery. The Hofstatter vineyards are located on slopes on both sides of the River Adige, from several family-owned wine estates with their traditional farmsteads and manor houses. Their wines bear the estate name on their labels: Kolbenhof, Barthenau, Oberer and Unterer Yngram-Hof, Steinraffler and Oberkerschbaumer. Other vineyards include parcels of land in the areas of Tramin, Neumarkt and Pfatten near Auer. In total, there are 50 hectares of vineyard under cultivation, at elevations between 820 and 2,460 feet (250 and 750 metres). At Hofstatter, you see a real appreciation of both the grapes and the vineyards, where hundreds of years of experience has taught them that certain grapes flourish in particular vineyards, and when well matched, the unique qualities of the vineyards are expressed in the wines.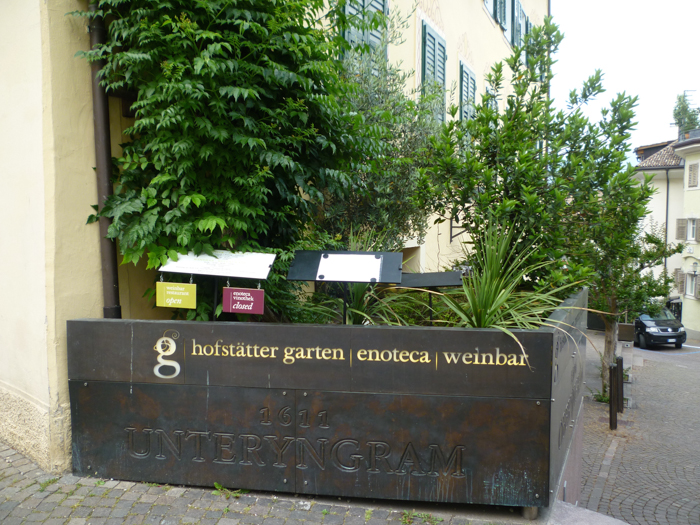 Hofstatter produces a wide range of wines, with several whites, reds, sweet wines, and two grappas. They cultivate several traditional local varietals, such as Gewurztraminer, Lagrein and Schiava, as well as international favorites such as Pinot Grigio, Cabernet Sauvignon and Merlot. Whites include Pinot Grigio, Pinot Bianco, Gewurztraminer, Muller Thurgau, Chardonnay, and a sparkling wine, Classico Hofstatter, made using the traditional Champagne process from a blend of Chardonnay, Pinot Bianco and Pinot Noir. Reds include three Lagrein, including a Lagrein rose, Pinot Noir, Cabernet Sauvignon and Merlot.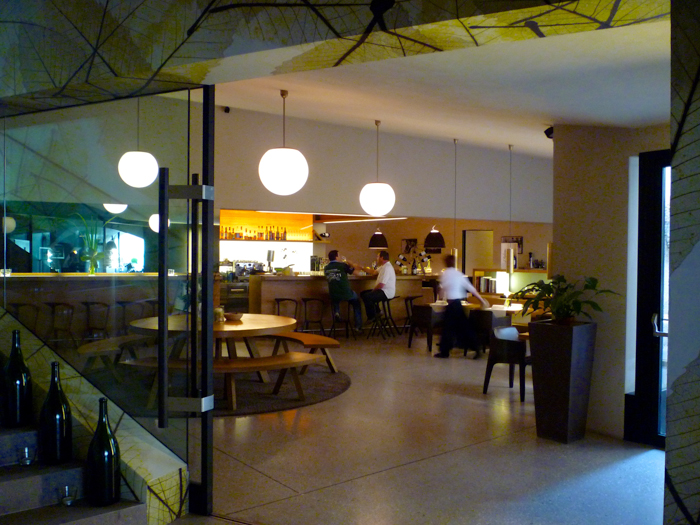 The wine bar and restaurant of Hofstatter are open most evenings (closed Sunday and Monday), so one can enjoy a tasting along with an antipasti or even dinner. A clean, contemporary tasting room is located behind the wine store, with large wooden tables where a group can gather to taste. Outdoor dining is also available, making this a great spot to enjoy a pleasant sunny afternoon with a crisp glass of Gewurztraminer.