Why do we choose Northeastern Italy for many of our tours? Tuscany is the favorite destination for many first-time visitors to Italy. It's a land of beautiful hilltop cities, but can be a bit overcrowded with tourists during the major tourist seasons, and those beautiful hills can be challenging for beginner to intermediate cyclists. The regions of Northeastern Italy, the Veneto, Trentino Alto-Adige and Friuli Venezia-Giulia, offer a wide variety of terrain suitable for all levels of cyclists, along with beautiful vineyards, spectacular mountains, lovely ancient cities and towns, varied cuisine from seafood to rustic mountain dishes, and more wine regions that any other region in Italy.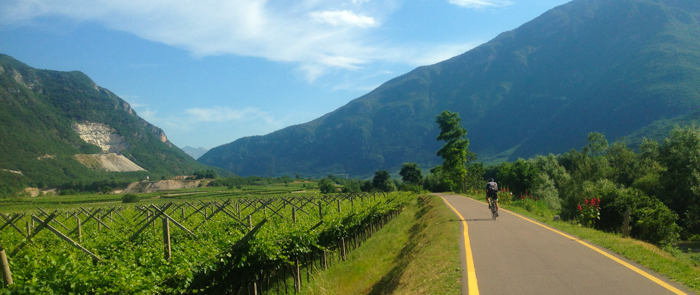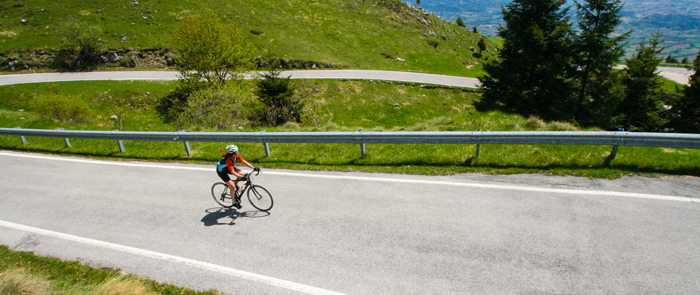 Expert cyclists may think of the majestic Dolomites, the magnificent peaks north of Venice, home to some of the most challenging climbs in the world. But cyclists of all levels will find terrain to their liking here in the Veneto. From flatter rides along the Brenta canal, riding by Palladian villas built for the Venetian aristocracy, to the foothills where we can visit picturesque walled cities and a different wine zone each day, to the most famous climbs on the Giro d'Italia, there is something for every cyclist to enjoy. But don't take our word for it - come check out the roads here on a beautiful Sunday afternoon, as we recently did - riding about 40km inland of Venice, with a view of the Alps to our north as we cycle from Castelfranco Veneto, to Asolo and onto Bassano del Grappa. Throughout the day we are joined by literally hundreds of local cyclists out for a wonderful afternoon of riding, enjoying the scenery, and a stop or two for a prosecco and a snack. Just our style!

We began the day in Castelfranco Veneto, originally a castle built in the 13th century. Portions of the medieval walls and towers still stand today. The famous painter Giorgione was born here, and the cathedral contains one of his most renowned works, called 'La Pala'. There are several excellent restaurants to enjoy on a visit here, but my favorite is Antico Girone; not only due to its tasty local dishes and exceptional wine list, but they've also been kind enough to feed a couple of our hungry cyclists who were looking for some pasta during the hours of riposo, when most restaurants, including them, were closed!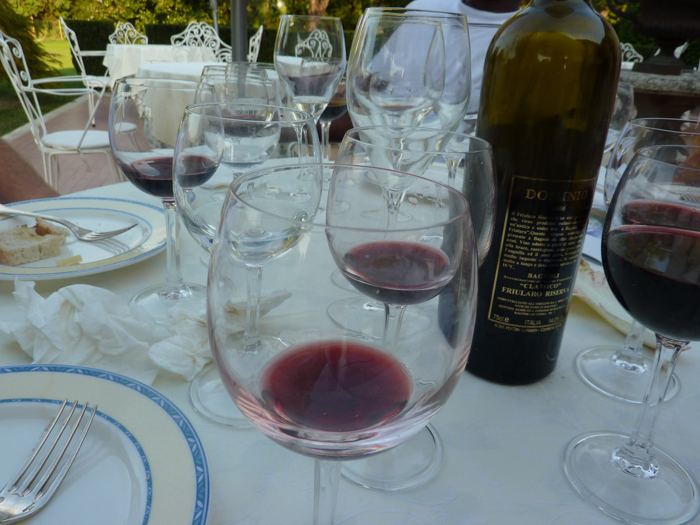 The day before, we enjoyed a great tour of the prosecco wine region, which you can do from a base in Castelfranco. There are numerous route options here, with hills for those who wish a vigorous ride, and flatter terrain for those who just want to tour and view the vineyards of the Prosecco and Piave wine regions. We ended with a wine tasting, enjoying just a few of the wines from the vineyards we explored earlier in the day. Well, to be honest, we enjoy a wine tasting every day...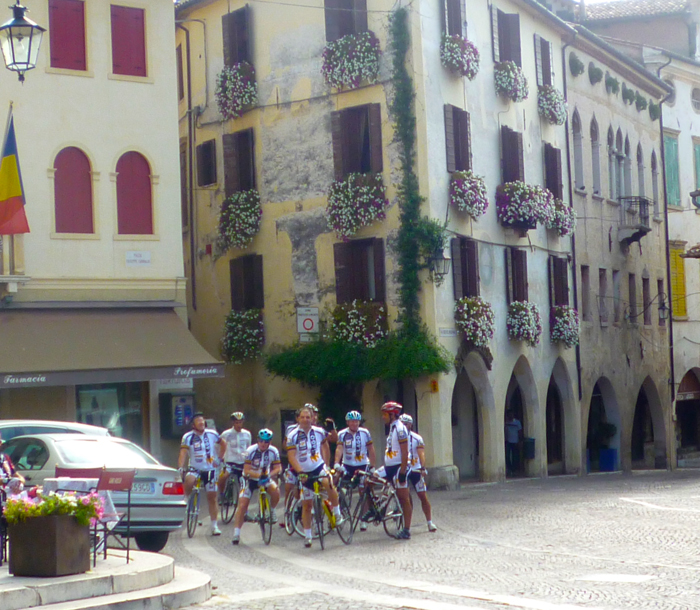 Today we head first to Asolo. A hilltop town known as "The Pearl of Treviso" and also as "The City of a Hundred Horizons", it is one of the most beautiful towns in Italy. The former Queen of Cyprus ruled here in the late 1400s, and later famous residents included the poet Robert Browning. It is a brief climb up to Asolo, but all take their time, and are well rewarded when they reach the top. Asolo is a town well-known to cyclists, I viewed the Giro d'Italia as it flew by on the narrow streets of this town in 2010. Here, we blend in with the locals. On this spectacular Sunday, we mingle with the crowds of native cyclists - bikes vastly outnumber cars here - as we stop for a quick snack at a local cafe.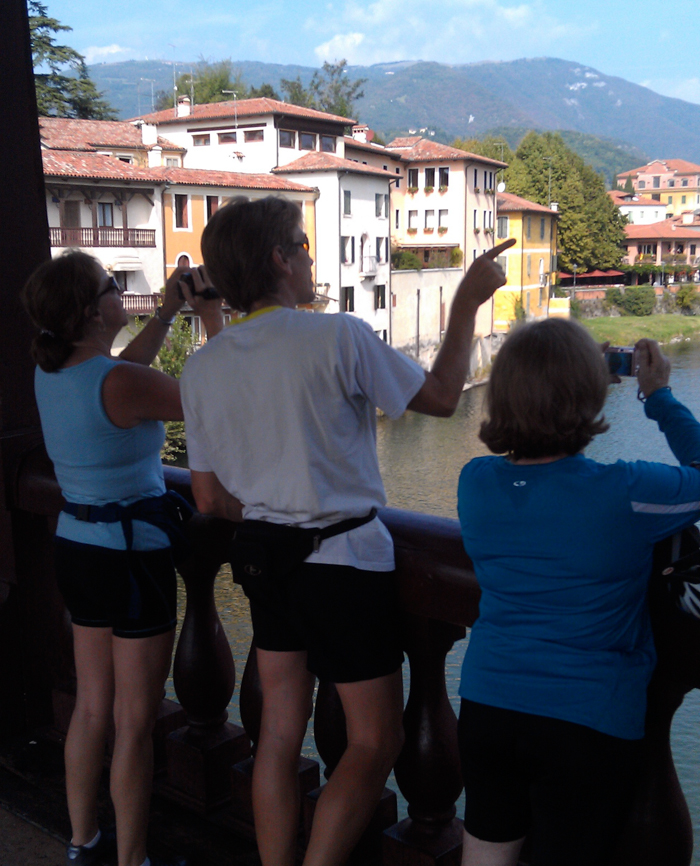 Next, we are off to Bassano del Grappa. Originally the town was known as Bassano Veneto. The town is famous for the renowned Italian digestif, grappa, with two well-known producers located here - Poli and Nardini. It is commonly believed that the spirit was named after the town, but the town itself was not called Bassano del Grappa until 1928, long after the spirit was invented.

Bassano was located right on the front line in both World Wars. During the first World War, terrible battles ensued on neighboring Monte Grappa, where the Italian army regrouped after their devastating loss at Caporetto and made a heroic last stand against the Austrians. At the top of the mountain lie the remains of over 12,000 Italian troops and over 10,000 Austrian and Hungarian troops who lost their lives during this battle. In 1928, the name was changed to Bassano del Grappa, in memory of the soldiers killed. Hemingway fans may recall the role this town played in his novel A Farewell to Arms.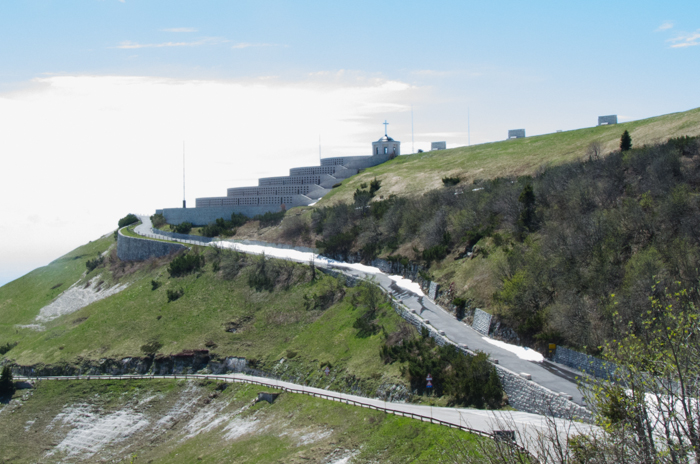 Cyclists who want a real challenge can take a detour and visit the summit of Monte Grappa, also a route known to fans of the Giro d'Italia. Here, there are numerous options for the ascent that we can guide you to, from one that reaches a 10% grade max to as much as 20%. Those who wish to stay on flatter terrain can take their time on a more circuitous route, and spend some time in Bassano visiting the beautiful Ponte degli Alpini - the lovely pontoon bridge designed by famed architect Palladio. All of our riders can meet up in Bassano to enjoy a wonderful lunch, followed by a tasting of the local grappas at Poli.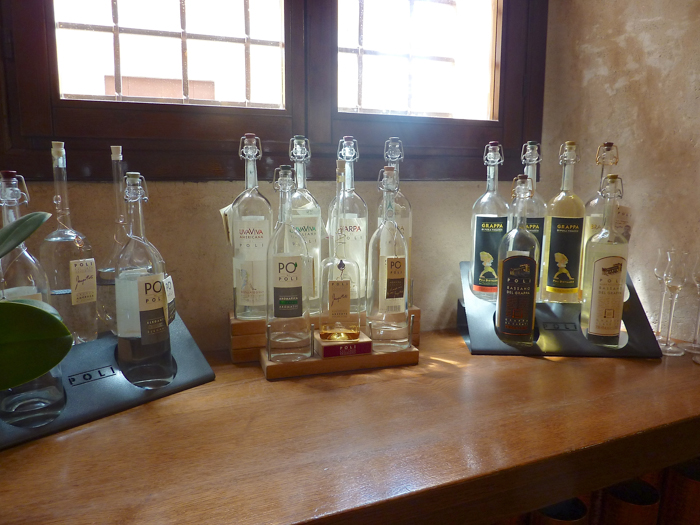 As the chef and wine lover of our guiding team, my passion is the foods and wines we see along the way. Wonderful seasonal produce grows all around Bassano del Grappa, from grapes for the local wines - we are in the Breganze and Vicenza DOC regions now - to olive oil, cherries, beets, and radicchio. On a recent culinary and biking trip in spring, we were lucky enough to visit Bassano during asparagus season. Bassano is home to one of the rarest delicacies in Italy, its white asparagus that appears between mid-March and mid-June. In the 1500 and 1600s, it was reserved for the banquets of the Venetian nobility. Today, it is still not exported outside of the region. We got a rare chance to cook with it during one of our afternoon cooking classes. So if you are in Bassano during the spring, make sure your post-ride pasta is fettucine with asparagus!

We can end our travels here in Bassano, with the afternoon to explore, or continue on to Marostica, or even Vicenza. This area supplies so many different ride options, we are never at a loss to find the perfect route or routes for a group! And with foods from the fish of the Adriatic to the mountain cuisine of the Dolomites, and over 30 different wine regions to explore, this is probably the most versatile and fascinating region in all of Italy.