Tortellini, and their larger relative, tortelloni, are homemade stuffed pastas originally from the Emilia-Romagna region of Northeastern Italy. This region is renowned for its' many wonderful varieties of stuffed pastas, which date back to the Middle Ages. In Bologna, these small 'dumplings' are referred to as tortellini; in the Romagna provinces of Rimini, Forli and Ravenna they are called cappellitti, or "little hats". Traditionally, these pastas were handmade in the home kitchens of this region, often to serve as a Sunday lunch dish. Pasta dough is made from two simple ingredients: eggs and soft-wheat flour, with the addition only of spinach or chard should a green pasta be desired. The dough is kneaded until soft and smooth, then rolled out with a long rolling pin until almost transparent. It is then sliced into strips for square shapes, or cut into circles for rounded shaped pasta.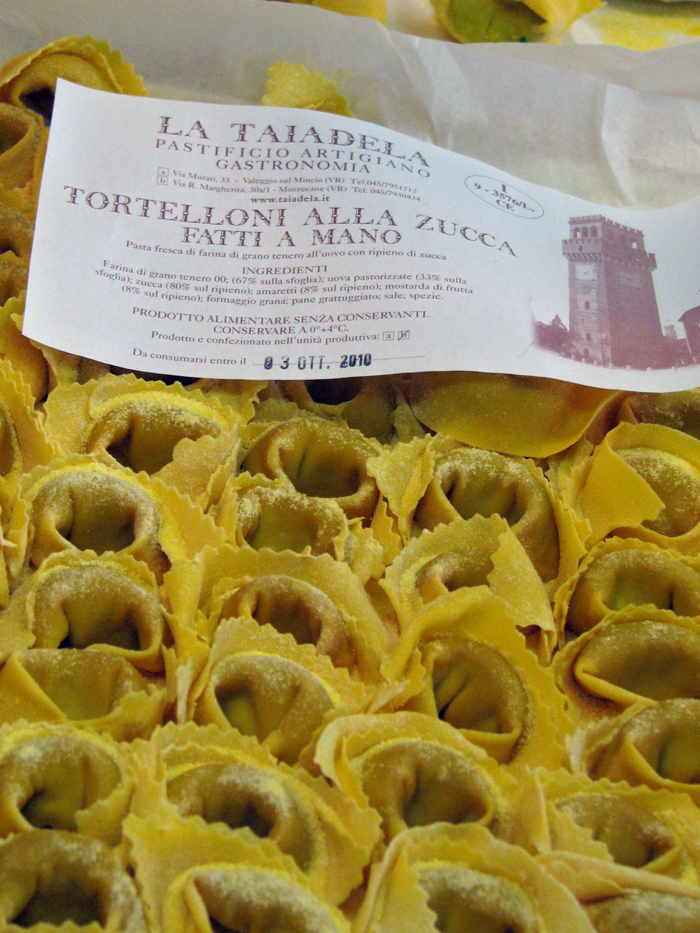 A 'traditional' stuffing recipe would not have made much sense to a woman making her own Sunday lunch tortellini - the stuffing would be made from whatever leftovers were on hand. And you would not purchase these from a store; who could know what would be inside! But today, busy lifestyles are the norm worldwide, and both here and in Italy homemade pastas are becoming a lost art. But luckily, speciality stores and even large multinational pasta companies are producing their own versions of these stuffed pastas, making them even more popular today than ever. No longer do we need to wait for Sunday lunch to enjoy these!

Tortellini are synonymous with Bologna, and Bologna's own Learned Confraternity of the Tortellino has arisen to ward off the ersatz imitators who may want to capitalize on the popularity of this favorite traditional dish. Tortellini alla bolognese is the classic dish, traditionally served in capon broth. The Confraternity specifies all the pertinent details involved in producing the traditionally correct version of this - including the size of the pasta squares (3.7 cm), the filling recipe, which includes mortedella, prosciutto, parmesan, eggs, nutmeg, and pork loin that has been allowed to sit for two days in a mixture of salt and herbs before being cooked in butter. A small dollop of the filling is placed in the center of one of these 3.7 cm squares, then the square is folded in half diagonally, forming two triangles. The edges are then pressed together and sealed with a bit of water or egg.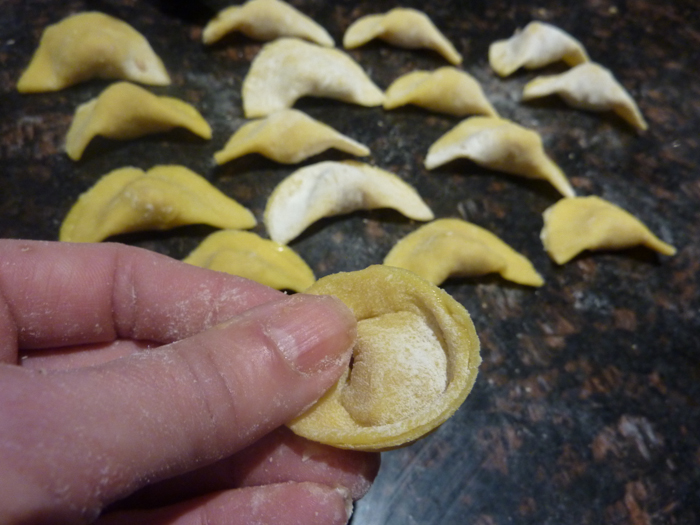 To shape the final tortelloni, one would pick up a triangle by the folded over end, with the tip pointing up toward the ceiling, and wrap that folded end around your index finger, preferably an index finger that is 18 millimeters in diameter (thanks again to the Confraternity for this detail.) Bring the two corners together and pinch to seal. Slip it off of your finger, and place on a floured sheet pan. Repeat with the remaining tortellini.

Now, one can appreciate the huge amount of work involved in making these, and understand why it is becoming a lost skill. However, this situation provided an opportunity for a far-sighted businessman near Verona, in the Veneto. In 1961, Giovanni Rana started making meat tortellini in his father-in-law's workshop. His small enterprise grew, first through his sales to small speciality shops, and then moving into supermarkets as these became more widespread in  Italy. His company now sells in stores all over Europe, and his products and others, both available in the refrigerated section as well as shelf-stable versions put out now by Barilla and others, have contributed to the more than 30 years of solid growth seen in the fresh pasta market.