Aglio Bianco Polesano is a type of garlic produced in the Polesine region of the Veneto. This area is located in the province of Rovigo, a strip of land about 100 km long and 18 km wide, lying between the Adige and Po Rivers. The White Garlic is protected by the DOP designation (Protected Designation of Origin), certifying the production methods, origin and quality of this food product, much like the DOC designation does for wine in Italy.

A vegetable bulb in the Allium family, which includes leeks, onions and chive, this particular variety of garlic is characterized by its pure white color, regular round shape which is slightly flattened at the base, narrow green/blue leaves, and flavor profile which is a bit less pungent than other varieties of garlic.

The presence of garlic in Polesine goes back to the Romans, who built many canals to reclaim this agricultural land Polesine in Venetian dialect for policinum, swamp or wetland. The Po and the Adige are the first and the third biggest rivers of Italy in terms of rate of flow, and yet another river flows across Polesine between these two main rivers: the Canal Bianco. As a result, most of the fresh water of Italy flows into the sea through Polesine. Due to this large amount of water, it has lots of canals for drainage. Many floods have occurred here, as the demise of one empire or another (such as the Roman empire) were often accompanied by years of neglect for the canal system.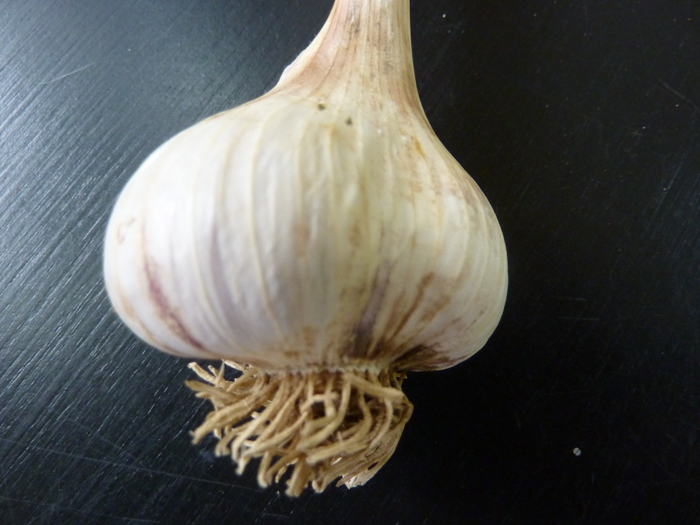 But thanks to these floods, the soils have medium texture, are well drained, porous and very fertile. The high content of phosphorus and potassium is responsible for the typical white color and longevity of the bulbs, while calcium and magnesium help to improve the quality. Over the centuries, the local garlic has been a significant commercial activity, giving rise to the name the "white gold of Polesine ".

The While Garlic Polesano PDO is produced in the first half of July.