In the center of the large plain that surrounds Padua, rise the rounded hills of the Colli Euganei. These hills, like the neighboring Colli Berici, are of volcanic origin, providing a soil rich in minerals and well suited to the cultivation of vines.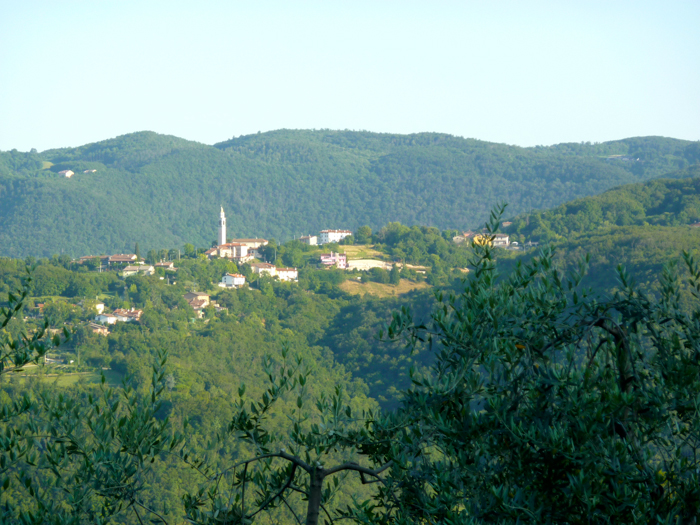 Historical evidence of the production and sale of wine in the area goes back to the first millennium BC, and continue to the present day. Supposedly the poet Francesco Petrarca chose to reside in the town that was later named after him, Arqua Petrarca, due in part to the high quality wine available in the area. 

For most of its history, following a practice that was widely followed in Italy, several wine varieties were planted in a single vineyard. In more recent times, as the area producers become more focused on producing and insuring the highest quality wines, they moved to specialized vineyards for individual varieties, and have now developed 13 separate DOC regulations for their wines. The protection and the strict control of quality are entrusted to a consortium to protection the wines of the Colli Euganei, and whose emblem appears on every bottle of DOC wine from the region.  Their stamp represents the Gattamelata, the master of Ventura that Donatello immortalized in the wonderful bronze equestrian in the Piazza of the Holy in Padua.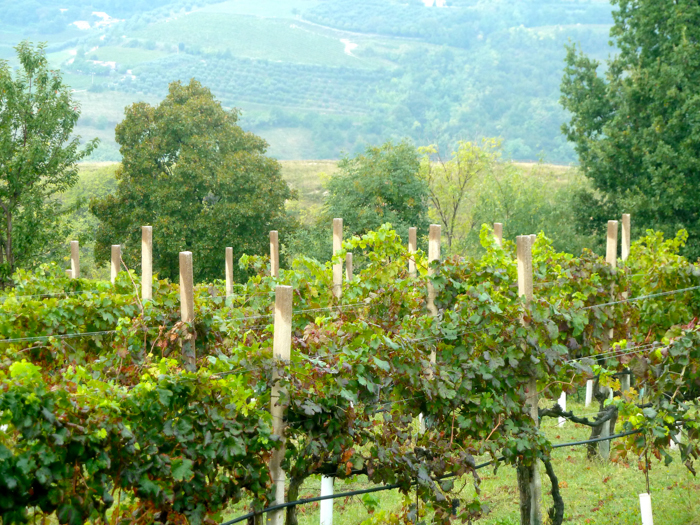 Whites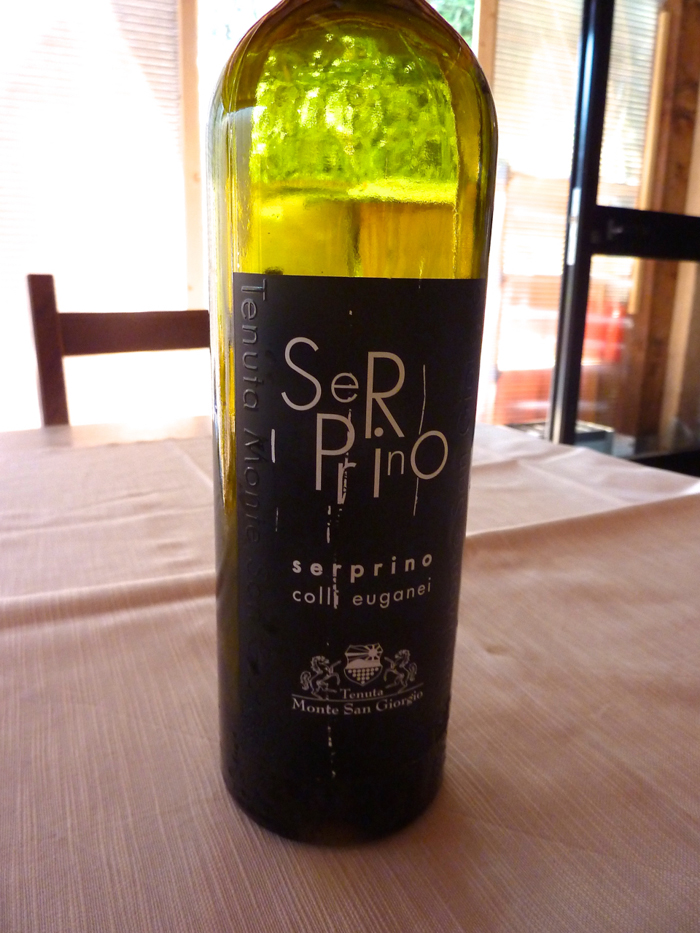 Bianco DOC: Garganega, Serprina and Tocai in approximately equal parts, with small quantities of Pinot Bianco, Riesling, Pinello and Chardonnay. Pale yellow in color, with a pleasant and delicate nose of jasmine, a dry, soft, pleasant, full bodied taste. It is excellent on its own, but pairs will with lean meats, soups, fish of all kinds, cheeses, and fresh pasta.

Chardonnay DOC: Chardonnay only. The French varietal that is used for excellent sparkling wines. It has good alcohol levels with enough acidity, fine and elegant, with a delicate perfume of golden apples and roses. A well-balanced, harmonious taste of apples, acacia and licorice. Dry, easy and inviting. Again, excellent on its own or as an aperitivo, pairs well with antipasti of vegetable or fish, with soups, vegetable based risottos and light fish dishes.

Fior d'Arancio DOC: Moscato giallo, from the zone designated for Fior d'Arancio. A sparkling wine of pale yellow color with golden reflections, a lingering, intense citrus perfume that is characteristic of this particular grape. It has a smooth and balanced flavor, wonderfully aromatic. It is found in both dolce and passito versions. In the latter variety, the grape are dried to concentrate the sugars, resulting in a sweet wine.

Moscato DOC: Moscato bianco. Originally from the eastern part of the Mediterranean, its area of cultivation has expanded to Piedmont and the Colli Euganei. It has a pale yellow color with golden reflections, and the distinctive moscato taste, delicate and smooth. It is used to produce both a sparkling wine as well as a still wine with a smooth taste, aromatic and intense. It is good at any hour, preferable accompanied by a biscotti.

Pinello DOC: Pinello grape. This is an indigenous grape, traditionally only used as a blending white, but now stands on its own with wonderful results. It is also used in frizzante wines. It has a pale yellow color with golden reflections, its typical intense characteristic perfume, and a dry, crisp flavor with a long finish. It is an excellent aperitivo, and pairs well with fish, and white meat. The frizzante version is good anytime.

Pinot Bianco DOC: Pinot Bianco grape. A noteworthy grape of ancient origins, derived from a genetic mutation of the Pinot Nero grape and found its habitat in the hills and dry soil of the Colli Euganei. It has a pale white color with greenish reflections, and a fine and delicate vegetal perfume. It has a slight hint of bitter almonds, a velvety taste, wonderfully dry. It pairs well with fish in white, delicate sauces, lean soups and broth.

Serprino DOC: Serprino grape. The origin of the grape is uncertain, is synonymous with Prosecco. It prefers the soil of the hills, where it best develops its individual characteristics. It is used to produce a frizzante wine with a beautiful pale yellow color, pallid and brilliant, with a fresh and delicate fruity perfume, with a smooth and dry taste. A classic wine for refreshment at any time, also ideal as an aperitivo. It pairs well with lean antipasti and freshwater fish preparations.

Tai DOC: Tocai Italico grape. This grape is originally from the Veneto region, and was exported to Hungary in 1632 as part of Contessa Aurora Formentini's dowry. Hungarian producers has discouraged the use of the "Tocai" name, as it is easily confused with the Hungarian "Tokai" wines, which are produced using another grape (Fermint). It has a pale color and delicate perfume of wildflowers and peaches, with a  dry and slightly sweet, soft, harmonious, velvety, with a slightly bitter aftertaste. It pairs with with all risottos, vegetables, mollusks, crustaceans, and all types of fish.

Reds

Cabernet Franc DOC: Cabernet Franc grape, either pure, or as a blend can include up to 10% of Cabernet Sauvignon and/or Merlot. This grape, is, of course, of French origin, but has been grown in the Colli Euganei area since 1870, when it was introduced at Lispida. It has a persistent herbaceous perfume and taste, a deep ruby red color, and with aging develops garnet reflections. It pairs well with dark poultry meats, game, roasts and aged cheeses. With aging, it develops into a wine of meditation.

Cabernet Sauvignon DOC: Cabernet Sauvignon grape. Originally from the Gironda area of France, it was first introduced to the Veneto region in Italy in the 1870s. It is considered one of the stars of wine production worldwide. It has an intense ruby red color with violet reflections when young, turning garnet as it ages. It has a fruity, woody perfume with hints of black currant and cedar, slightly herbaceous, with a bit of raspberry. With aging is becomes more refined, more gentle and delicate. A  classic wine enjoyed at all times, it pairs with roasts, poultry, game, aged cheeses and dried pasta dishes.

Merlot DOC: Merlot. Another French varietal from the Bordeaux region. According to the wine scholar Petit-Laffite, the name Merlot comes either from the intense color of the feather of the blackbird (merlo), or from this particular bird's affinity for this variety of grape. It has a full ruby red color, developing to garnet as it ages, a taste that is dry or slightly sweet, a wonderful perfume that is characteristically reminiscent of blueberries and raspberries. It pairs well with roasts of all types, red and white meats, salami, flavorful vegetable dishes, stews and game.

Novello DOC: A blended wine with Barbera, Cabernet, Merlot and Raboso grapes. Novello is a recent development in Italian wines, and represents today an important sector of Veneto enology. This Novello of the Colli Euganei is one of two Novelli type DOCs in the Veneto, the other being Bardolino. Pleasant, fresh, agreeable, with a beautiful ruby violet color, fruity, but not tannic, with an intense characteristic aroma. It pairs well with autumn dishes of mushrooms, white meats and dried fruits.

Rosso DOC: A blended wine made from Merlot, Cabernet Franc, Cabernet Sauvignon, Barbera and Raboso. It has a ruby color when young, developing more garnet color with aging, deepening to brick. It has a wonderful wine perfume, persistant, with a generous palate, warm, and round. It pairs well with lean soups, boiled or roasted meats and meat stews, white meats and poultry, and with aging pairs well with game.