The Luigi Righetti estate is a small family-run winery located in the town of Valgarata, just outside of Marano in the heart of the Valpolicella Classico area. This winery has been producing wines since 1909, and the current owners are the fifth generation of the Righetti family to carry on their wine-making tradition. Luigi Righetti is now in his late seventies, and is still involved in the business, assisted by his sons and granddaughter.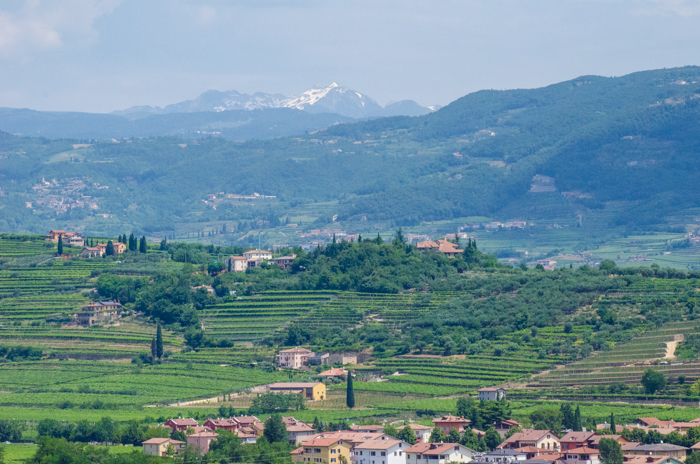 Along with their Amarone, they produce Valpolicella, Bardolino, and Bianco di Custoza. There Amarone very much intrigued me, as the price was incredibly reasonable, at just over $30 a bottle. Amarone is a very labor intensive wine to produce, and usually commands a high price.
Want to try some wonderful Amarone? Join us on our Bike the Amarone Wine Roads tour! Click here to learn more.
Amarone (from amara, or bitter in Italian) wines were first produced accidentally - a sweet Recioto wine taken a bit too far. Fermentation of wine is the process of converting sugar to alcohol. In Recioto wines, the fermentation process is stopped before all the sugar is consumed, resulting in a sweet wine. In the case of Amarone, the fermentation process continues until the sugar is totally consumed, resulting in a dry, high alcohol, full-bodied wine. The first dry Amarone wines were produced in the early 1950s, and today specialized strains of yeast are used to insure the total conversion of sugar to alcohol. A dry, full-bodied red wine like Amarone usually hails from more southern regions, and is rarely found in a cooler climate such the Valpolicella region. In more southern locals, their longer growing season allows the grapes plenty of time to ripen on the vine. Other late harvest wines rely on the botrytis mold to desiccate the grape and concentrate the sugars.  In the unique case of Amarone, the grapes are the last to be picked in this zone, and then spend the next three to four months in drying rooms, being carefully desiccated to avoid mold and rot. This technique (passito) produces a raisin that has the acid balance characteristic of grapes from cooler climates. Amarone wines are then aged in wood barriques for several years, some up to five years, before release.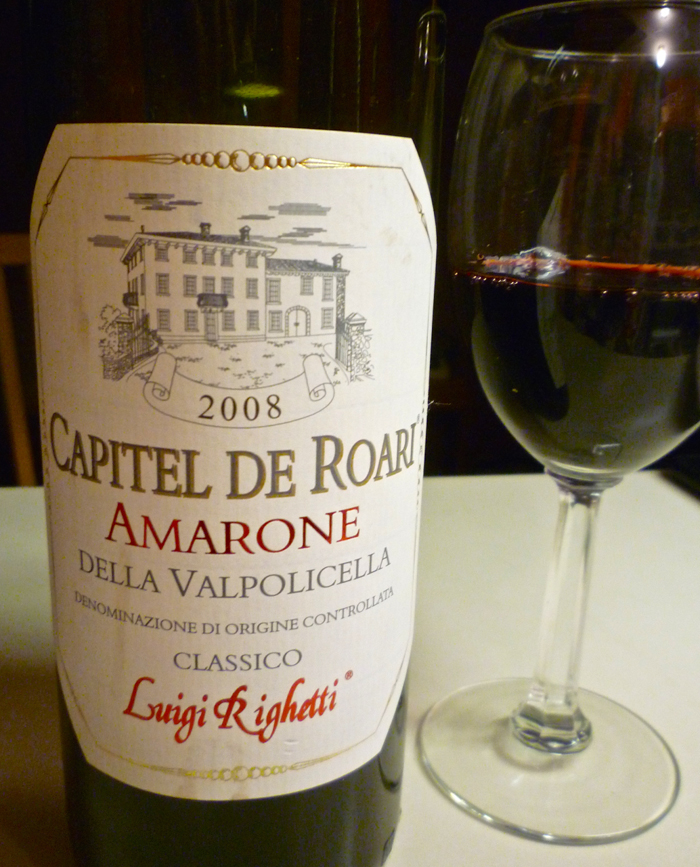 The flagship wine of the Righetti winery is their Capitel de Roari Amarone. Made from a blend of Corvina, Rondinella and Molinara grapes that are hand selected from the best produced by the Righetti growers, the grapes are then dried for 4 months in a special drying attic, where windows are used to control the humidity and temperature. The wine is then aged, half in French barriques, and half in Slovenian oak barrels, and is released 4 years after production.

I highly recommend this Amarone; a well-made, high quality wine that is very well priced at $30 a bottle. It is a deep purple color, with intense aromas of cherry, dark berries, currants, dried fruit, smoke and chocolate. Full-bodied, potent, slightly bitter flavors of cherry and dark chocolate. A persistent, velvety finish with fine tannins. 

Amarones are typically long-lived wines and some need further aging to achieve their greatest potential, but the Righetti Amarone, is supple enough to enjoy young. The Italians refer to Amarone wines as a vino da meditazione, a "wine of meditation", best enjoyed all by itself. If you prefer to enjoy it with food, a full flavored braised or roasted red meat, or aged hard cheeses such as a grana or Parmigiano Reggiano would be great choices.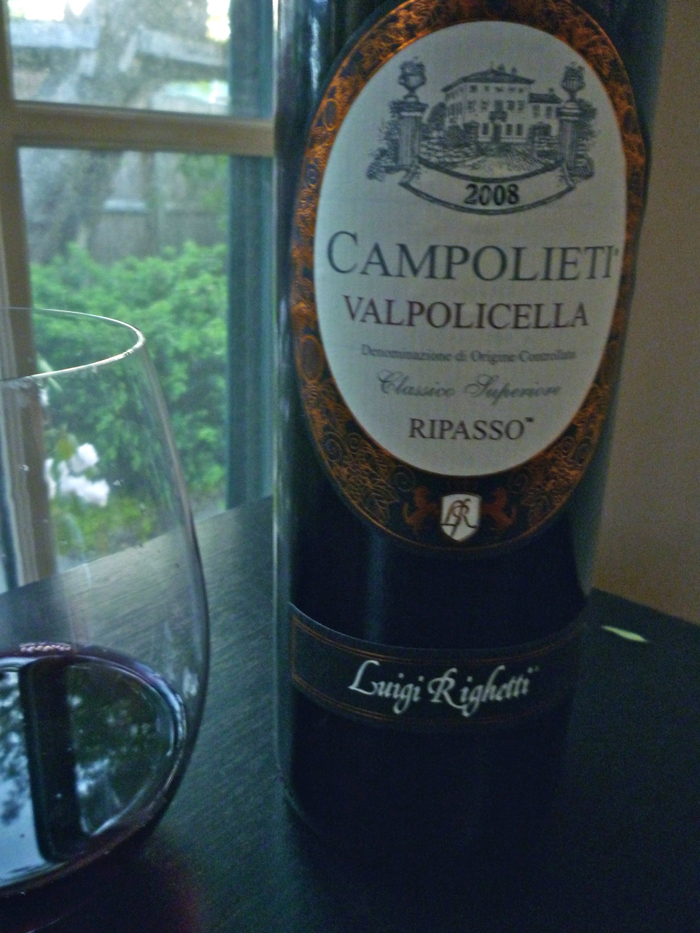 I also tasted the 2008 Righetti Campolieti Valpolicella, a Classico Superiore Ripasso. Classico indicates it hails from the best vineyards in the Valpolicella region, those that were part of the original area and not vineyards 'added on' to accommodate increasing demand for the wine. Superiore indicates that it has been aged at least 2 years. Ripasso refers to the method of production; here the pressed grape juices are 'passed over' the must leftover from the production of their Amarone wines, giving the resulting Valpolicella a bit more body and intensity.

The name Campolieti translates to "happy fields", and this wine will certainly delight. It is a smoothly drinkable wine, rich and fruity with aromas of cherry and red berries, with hints of dried fruits and dark chocolate. Made from 70% Corvina, 20% Rondinella, and 5% Molinara, this is very elegant and well-balanced, with nice pleasant tannins and a persistent finish. At $17 a bottle, another great value from this producer. A wonderful choice to accompany a pasta or risotto with meat or mushrooms, red meats and roasts.