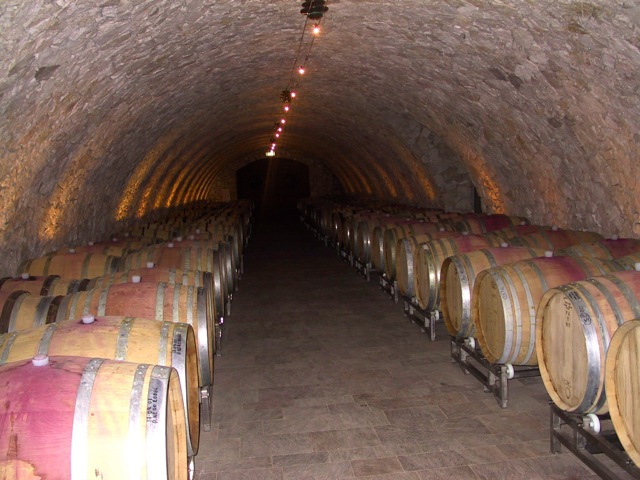 On my first food and wine research trip to Italy, ten years ago now, Jody Adams and I visited one very special winery in Trentino, Pojer e Sandi. Jody and I had quite an adventure finding out hotel in the town of Faedo, about 25 km north of Trento. As a result, we got a tour of the lovely surroundings of this winery. When we finally arrived at Pojer e Sandr, our host was Elise Sandri, daughter of founder. In the 1970s, her father decided to take over the then small family vineyards; he teamed up with a student at the local, but well known, agricultural school. Years later, the winery is a flourishing business, with Pojer handling the wine production, and Sandri handling the business end of the winery.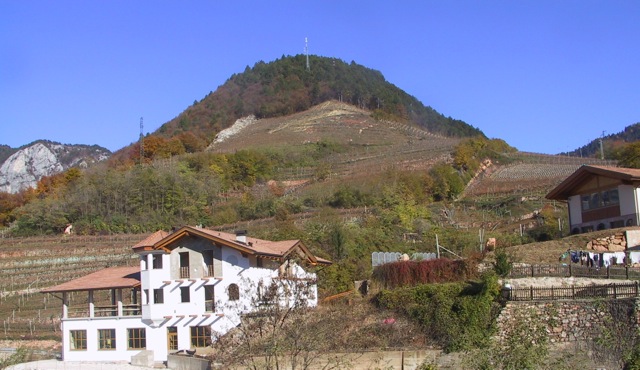 P&S have state of the art production facilities, but strive to obtain just the right mix of new technology and old world quality. They emphasize gentle handling of the grapes – grapes are no longer pressed by traditional mechanical presses, but rather by a large air-filled balloon that gently presses the grapes over a period of several hours. This balloon technique Pojer first saw during a visit to the Rioja region of Spain. They have also take on local production of their wood barriques for aging. On a visit to barrique producers in France, Pojer grew concerned about the conditions under which the wood was aged prior to being formed into barrels. They were lying outside, in rather polluted areas, for a period of 2 years until deemed 'aged' enough to be made into barrels. P&S moved to a local Trento producer, who could provide the same type of barrel, but could make the barrels from wood obtained from Pojer e Sandri's own land, wood that had been aged right in their own back yard, under familiar and obviously much cleaner conditions.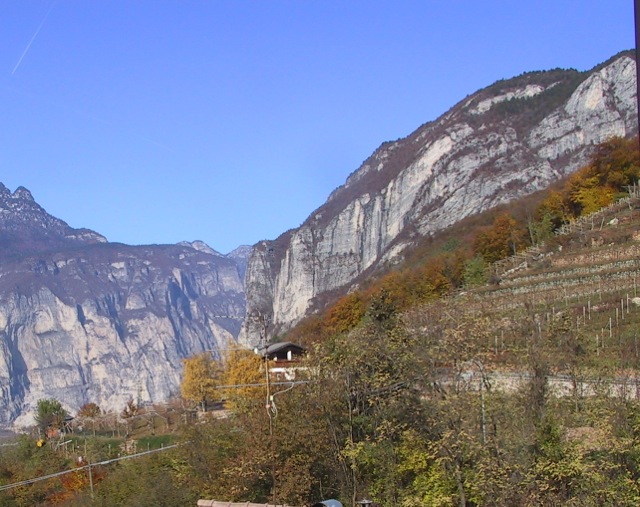 Jody and I enjoyed a nice walking tour of the production facilities, cellars, and vineyards, before indulging in a rather extensive tasting of many of Pojer e Sandri's best wines. Their philosophy is to produce drinkable wines; fruity, with not too much alcohol.
Here's the run down on what we tasted on our visit:

Nosiola

This is a traditional Trentino variety, with a distinctive aroma of nuts (hence the name). Light, fresh – some acid. Lime/citrus. Nice acidity, ages well.

Chardonnay

Apple, butter aroma. Fruity: banana, pear. 2 years old is best – becomes more minerally. Very nice.

Traminer

Gerwurztraminer. Traminer is the variety, from the nearby town of Tramin. Gerwurz means "very aromatic" in german. Rose aroma; nice spice, nice acidity. Great!

Muller Thurgau

Vanilla, floral, straw, with a refreshing acidity. Peach. Nice with fish.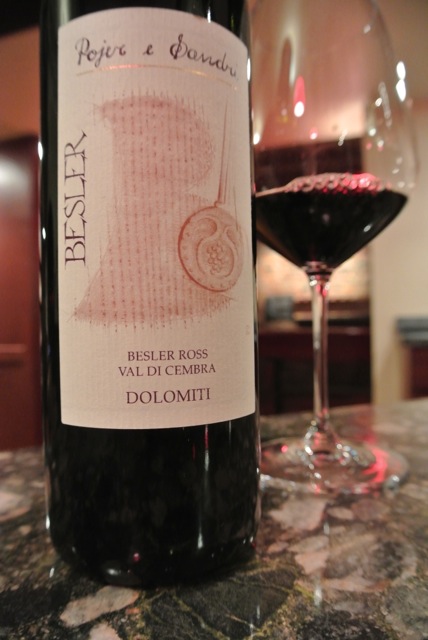 Besler Biank

This is a very aromatic white blend. Besler is the name of the property on which the grapes are cultivated. Maso Besleri, purchased by Pojer e Sandri in 1993, is located in a place called Valbona in the Cembra Valley. Biank is local dialect for "white". This is a blend of 5 grapes, Pinot Bianco, Riesling Renano, Sauvignon, Incrocio Manzoni and Kerner. Lots of grapefruit, balanced with a bit of oak Round, a lot of life. It is aged in locally produced acacia oak barrels. 

Besler Ross

A red wine produced on the same estate. A blend of Pinot Nero, Zweigelt, Franconia, Negrara Trentina and Groppello. A refreshing red, light, lively, spicy. Pepper, cherry.

Pinot Noir

Aged for 1 year in French oak barrels. Pepper, cherry. Very spicy flavor, high acid. Difficult grape to grow; this area is particularly well suited to Pinot Noir. Very delicate skins, and any excess water will hurt them. Long finish. Delicate, soft, fruity. Not much oak.

Bianco Faye

90% chardonnay. 10% Pinot Blanc. The latter provides a bit more elegance; % is dependent upon the vintage. Aged in oak. Light to medium oak flavor, toast, nut, vanilla, butter. Long finish. Can probably age a bit.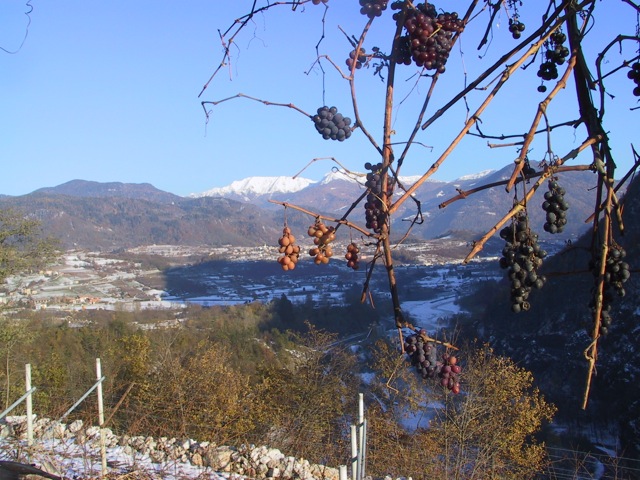 Essenzia
This is a sweet dessert wine, with flavors of fig and olive. Pojer e Sandri leave the grapes on the wines until late November or early December. This is a blend of Sauvignon Blanc, Riesling, Traminer, and Chardonnay, in equal percentages. At 9.5%, it is not high in alcohol. A very nice wine, sweet and light, with a crisp acidity. Hints of citrus and grapefruit, along with stone fruit.

We also tried two digestifs, their Muller Thurgau Grappa, and their Poire Brandy
Poire Brandy. Both were tasty and smooth. The brandy is traditionally served with rabbit and polenta.