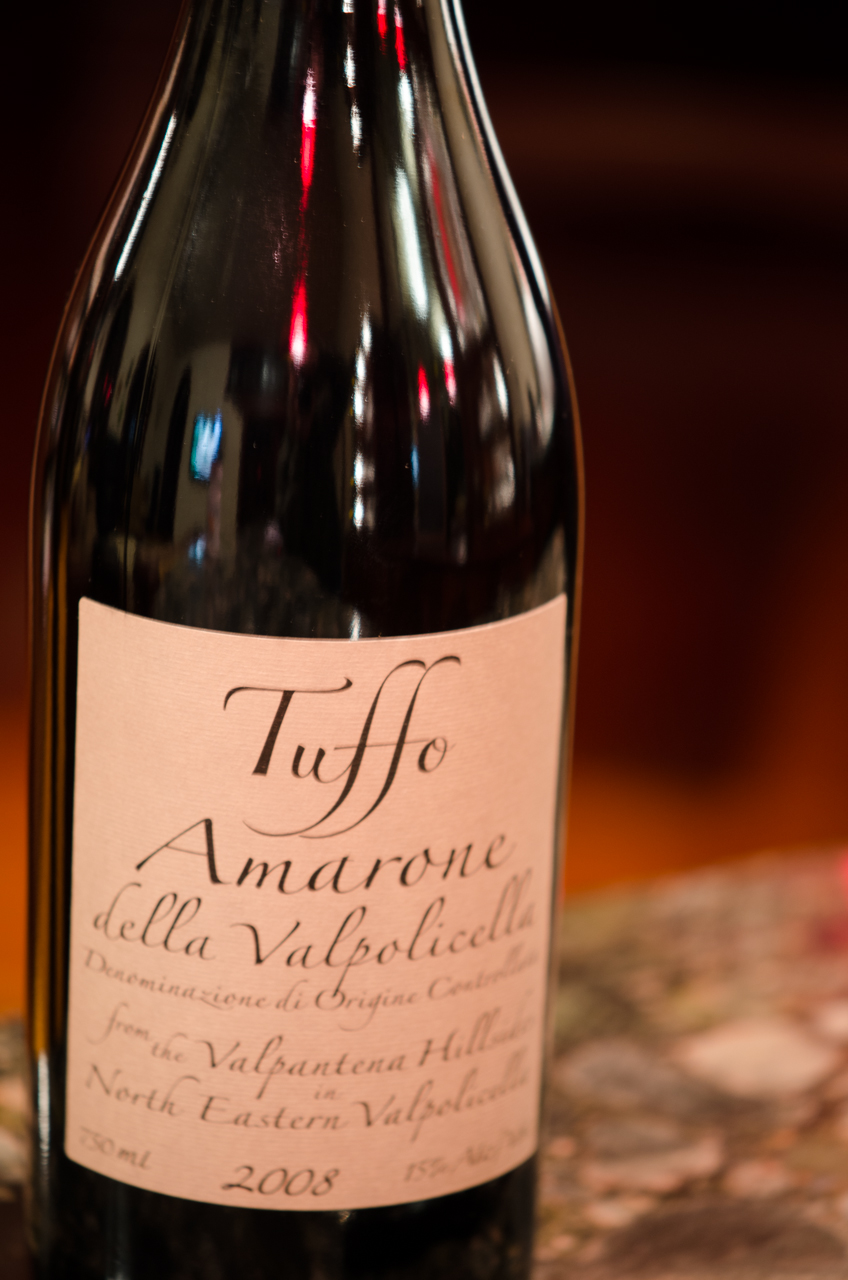 On a trip to New York City, I found this reasonably priced Amarone at a wine shop. It was a new producer to me, and my quest to learn something about the winery itself came up quite empty. I guess I will have to do my research in person, on my next trip to the region!

This Amarone is a blend of 65% Corvina, 25% Rondinella, 5% Corvinone, and 5% Negrara. The grapes are cultivated in vineyards located on the hillsides of Valpantena, in the northeast corner of the Valpolicella region. Valpantena is a valley running from Verona, north up into the Lessini mountains. Tuffo also produces Valpolicella and Soave wines, as well as a Pinot Grigio.
 
Tuffo first released an Amarone in 1959. Their Amarone is obtained from the choicest bunches of grapes, which are harvested by hand, separated as not to touch and left to dry in wooden racks for 90 days. During this drying process, called appassimento, the water within the grapes evaporates, leaving concentrated fruit extract inside each grape. After this raisining, the grapes loose up to 30 - 40 % of their weight, and increase their sugar extracts by 25 - 30%. At the end of January the grapes are pressed and left to ferment for 25 - 30 days.

After the final press the wine is racked into stainless steel tanks where malolactic fermentation takes place. Afterwards, the wine is aged for 18 - 20 months in a combination of small French oak barrels and Italian cherry wood casks before going into bottle. Once in bottle, with wine ages another 2 - 4 months before being released.

The Tuffo 2008 Amarone is deep ruby-red in color. The nose is lively with scents of dark berries, currants, vanilla and almonds. An elegant, full-bodied wine with both a robust fruitiness and nicely structured tannins, followed by a persistent finish. An excellent pairing with roasts, braised meats, and rich cheeses.