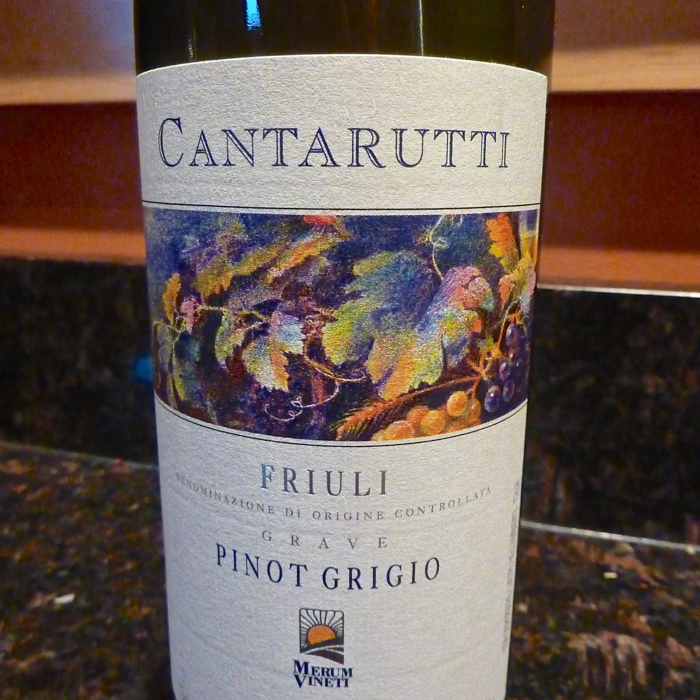 This winery owns vineyards in both the Grave and Colli Orientali di Friuli DOC regions of Fruili-Venezia Giulia, and offers an ever improving ranges of wine at reasonable prices. The company was started in the 70s by Alfieri, and is run today by daughter Antonella. The vineyards are located in the southern portion of the Rosazzo hills, approximately 10 miles from both the Adriatic sea and the Slovenian border. The family estate consists of 65 acres in the Colli Orientali del Friuli DOC, and another 42 acres in the Friuli Grave region. Over the last few years, Cantarutti has made significant new investments in the winery, in both a state-of-the-art fermentation facility as well as underground cellars for the aging of the wines.

This tasting was of Cantarutti's Pinot Grigio 2009. This particular wine hails from the limestone soils of the 650 foot high Grave vineyards. It is 100% Pinot Grigio, aged exclusively in stainless steel for 8 months, resulting in a clean, crisp wine.
It is straw yellow in color, with flavors of mature apple and pear. It is medium bodied, rich in aromas and flavors, with fruit and a mineral finish. Hints of almond grace the long, pleasant finish.