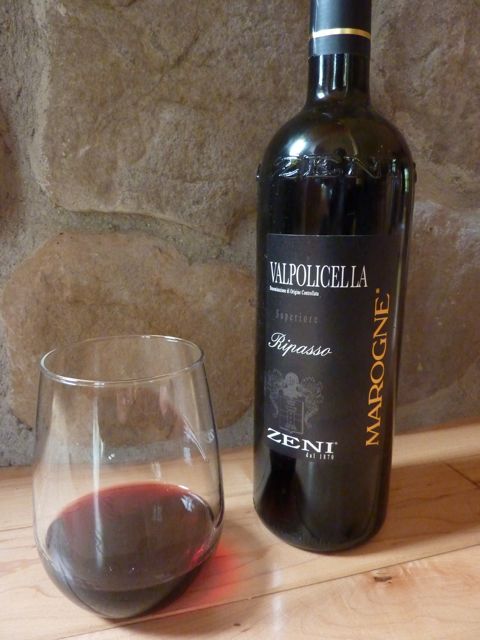 The Zeni family began producing wines in the Verona province in 1870, and five generations later they are still involved in every detail of the production process, from cultivating the wines to production, finishing, bottling and marketing. Located in Bardolino, along on the morainic hills along the eastern shore of Lago di Garda, the family produces wines from vineyards that are both privately owned or leased, as well as a very select group of growers. The Zeni Winery has been committed to the production of the Classic Veronese wines, producing whites such as Soave, Bianco di Custoza, Lugana, Garda Garganega, the rose Bardolino Chiaretto and reds such as Bardolino, Valpolicella, Recioto della Valpolicella and Amarone della Valpolicella.  They also produce IGT wines such as Costalago, Cruino, Corvar, Merlar and Passito.

I tasted the Marogne 2008 Valpolicella Ripasso Superiore. The Marogne selection of wines produced by Zeni is a special production in which they combine a low yield pre acre with specific vinification techniques. The resulting wines display the true potential of each varietal. This wine is a blend of 60% Corvina, 30% Rondinella and 10% Molinara grapes, grown in the Valpolicella Classico zone, a hilly band north of Verona. At the start of harvest, some of the grapes are selected by hand, collected in small crates and left to dry, or raisin, before being vinified with the rest of the grapes, which are picked towards the end of the harvest. The traditional skin fermentation is used, followed by 10-15 days of maceration. After fermentation, the unpressed Amarone skins are added to this Valpolicella wine, following the traditional "ripasso"  technique. Ageing occurs in oak barrels, and lasts for 10-12 months, depending on the vintage.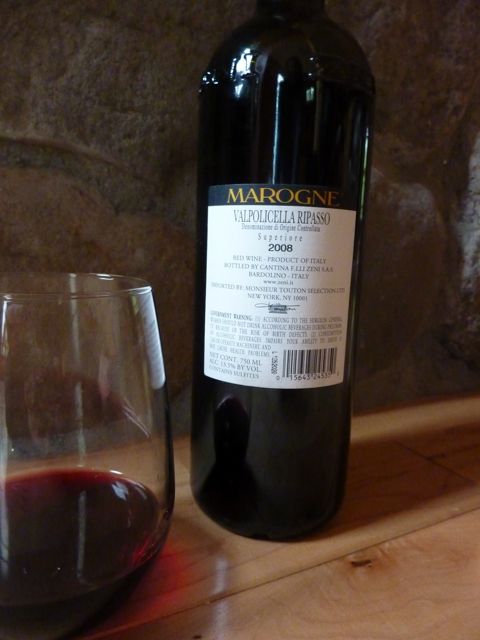 Deep ruby red in color, with lots of cherry and dark, ripe fruit on the nose. A velvety palate, full-bodied and long in the finish. I thought it a very nice, full-bodied wine for under $20 a bottle. I would recommend it with a pasta with meat sauce, grilled red meat (I had it with a nice grilled skirt steak), and aged cheese.
A nice recipe in which you could use, as well as pair with this wine is my Braised Beef with Amarone or Valpolicella. The next day, make a meat ragu from the leftovers, and open another bottle!