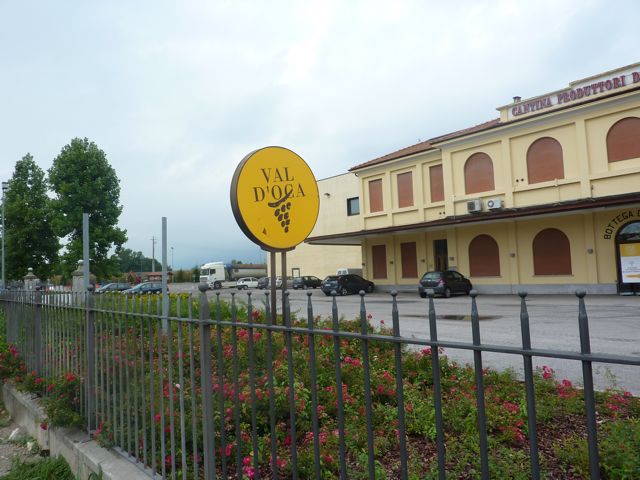 The Val D'Oca Cantina Produttori di Valdobbiadene is a consortium of 600 growers, representing 614 hectares of vineyards in the Conegliano Valdobbiadend Prosecco Superiore DOCG zone. Val D'Oca (Valley of the Goose, a food product of the region) was formed in 1952 by a far-sighted group of local growers who realized that, by joining forces, they would be in a better position to keep up with the rapidly changing market and technological advances in wine production.

For over 50 years this consortium has assisted its member growers in improving the quality of its wines, promoting their wines, training growers in the latest methods of cultivation, and now converting vineyards from traditional farming to organic. It also is continually investing in production improvements and quality control.



I served two of the Val D'Oca proseccos during our Italiaoutdoors Fall 2011 Chefs on Bikes tour. For our welcome aperitif, I like to serve a top notch prosecco, and the Val d'Oca Valdobbidene di Cartizze DOCG fits the bill. From the Cartizze "Grand Cru" area of  the region, the prime 107 hectares of vineyard real estate in Valdobbiadene, this prosecco is perfect for a special aperitif, or with desserts and biscotti. This is made from 100% Giera grapes, using the classic prosecco Charmat method. Soft, tiny bubbles accompany the pleasant aromas of apple and peach, with a clean, refreshing palate.

A couple of days later, we began our cooking class a tasting of the Millesimato Val D'Oca. A winner of 4 grappoli from the Duemilavini awards of 2010, this was also wonderful. Aromas of apple with floral notes, it worked as an aperitif, but would also pair wonderfully with fish and shellfish.