I found this wine on a recent trip to Baltimore to visit family. It spoke to me from the racks of a wine shop/cafe we visited for lunch. When in a new wine store, I always check out the selection of wines, to expand my tastings of wines from Northeastern Italy. Here I discovered a Vernatsch, a wine from the Sudtirol region of Alto Adige. The label is written in English, as well as Italian and German. This region of Italy only became part of Italy following World War I. Before that, it was part of the Austro-Hungarian empire, and you will still find German speakers there today.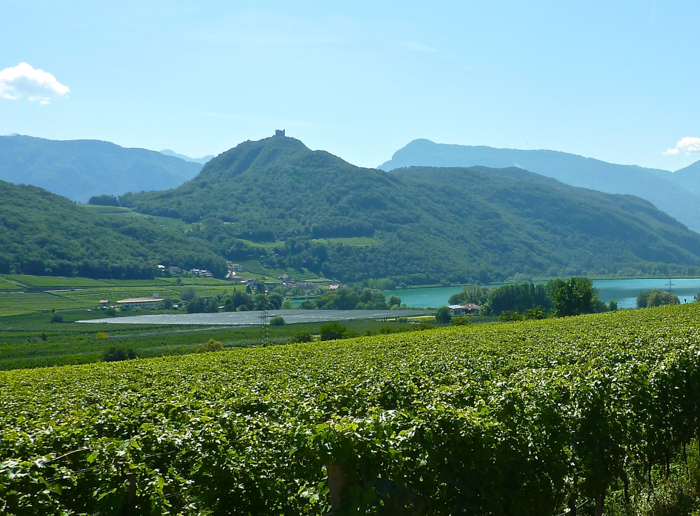 This is an indigenous varietal, very popular in Italy and Germany, but yet another example of wonderful wines Italians mostly keep to themselves! Vernatsch is a black skinned grape that carries many names; the German speakers in the region use Vernatsch. Italians use Schiava, which means 'slave' in Italian, but probably traces its origin to Slovinia, the reputed source of this grape. Germans today drink this same varietal, called Trollinger, which is likely derived from Tyrolinger. And finally, if you purchase this grape in Germany for consumption at your table, it is called Black Hamburg.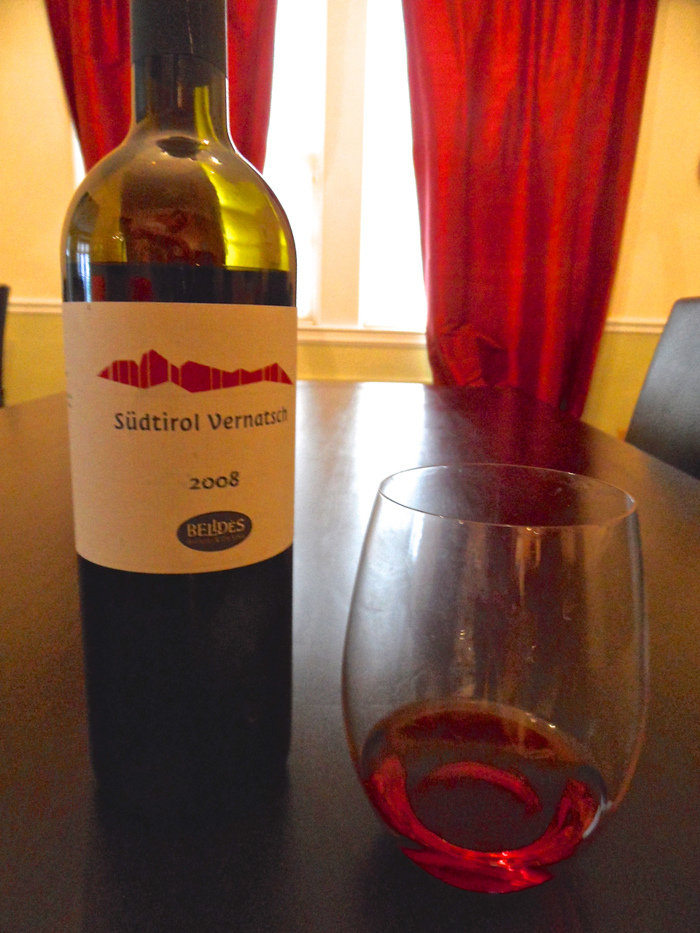 Schiava or Vernatsch wines are primarily exported to the German-speaking countries to the north. The best known come from around picturesque Lake Caldaro, or Kalterersee. This DOC is actually one of Italy's largest DOC producers, with over 20 million liters per year. But you will find Schiava wines produced throughout the Sudtirol, along the Adige river into Trentino and even as far south as the Veneto, where they are produced under the Valadige DOC.
I tasted the 2008 BellDes Sudtirol Vernatsch. The producer here, BellDes, is a cooperative run by DeSilva vineyards (Des) and their winemaker, Christian Belluti (Bell). The focus on indigenous Alto Adige varietals. This wine is 100% Vernatsch, and hails from vineyards around Lago di Caldaro near Tramin, Alto Adige. It is produced using traditional mash fermentation in stainless steel tanks. It ages for 6 months in the bottle prior to its release. 

This wine can often be dismissed by wine 'connoisseurs' as undistinguished and mundane. I am enjoying it with some nice antipasti cheeses as I write this. It is fruity, with cherry and red fruit flavors, hints of almond and violet, and a bit of mineral. It has a wonderful acidity to it, which makes is a great foil for the local cured meats and cheeses. It is low in tannins, which will disappoint if you are looking for a huge red. But perfect for a nice lunch with grilled chicken, or with an antipasti with fresh cheeses and speck.