The more I visit and study the wines of Northeastern Italy, the more impressed I become by the variety and number of wonderful producers there. I particularly enjoy it when I find wines here that are unique to these areas; wines produced from the grapes that have grown here, and only here, for hundreds of years, that reflect both the 'terrior', as well as the culture and the history of this particular spot on earth.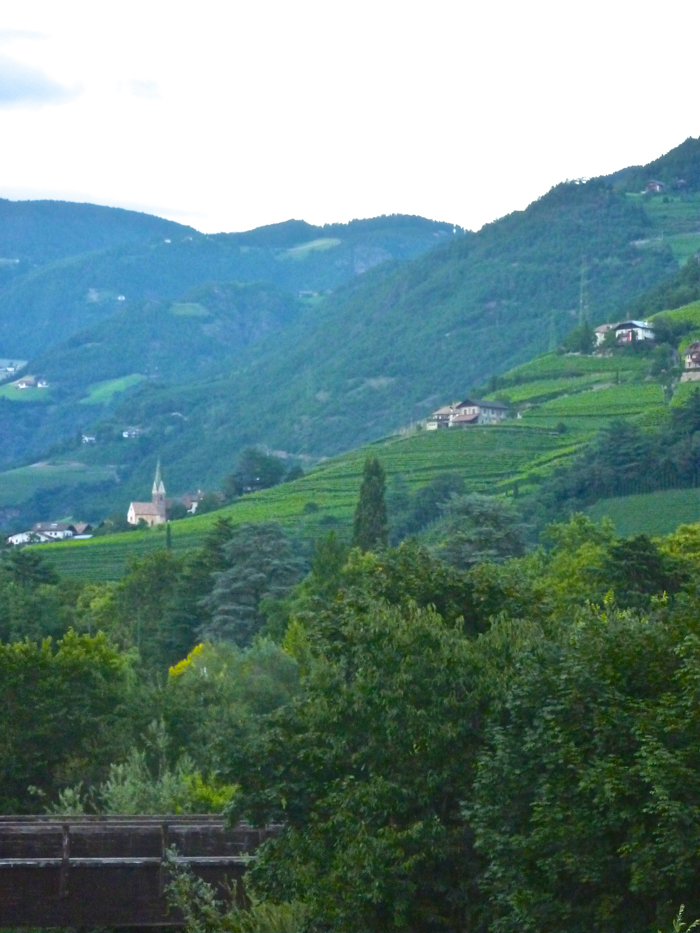 The wines of Trentino Alto Adige are continuing impress wine enthusiasts worldwide. Located between the Veneto region of Italy to the south, and bordered by Austria to the north, the region reflects both Adriatic as well as Austrian-German influences. The region is predominately mountainous, with the majestic Dolomites dominating the landscape, but the valleys and foothills are perfect terrain for producing world-class wines. Between the mountains, where one can hike or ski, and the lovely valleys, where one can bike along beautiful bike trails, to quote wine experts Joseph Bastianich and David Lynch, in their Vino Italiano The Regional Wines of Italy guide, "For those who love both the outdoors and wines, Trentino Alto Adige is hard to beat."

I recently discovered a red wine from Alto Adige, from the vineyards of Georg Mumelter. Mumelter's farm, Griesbauerhof, is located right outside of Bolzano, where the Val d'Isarco opens into the basin around Bolzano. This farm has been in the Mumelter family since 1785, at the base of the picturesque hills of St. Giustina and St. Maddalena in Rencio. The winery still operates in a tiny cellar below the house, using an original wine press. The vineyards have a sunny, southern exposure and sandy clay soil, providing ideal conditions for the ripening of both whites as well as reds.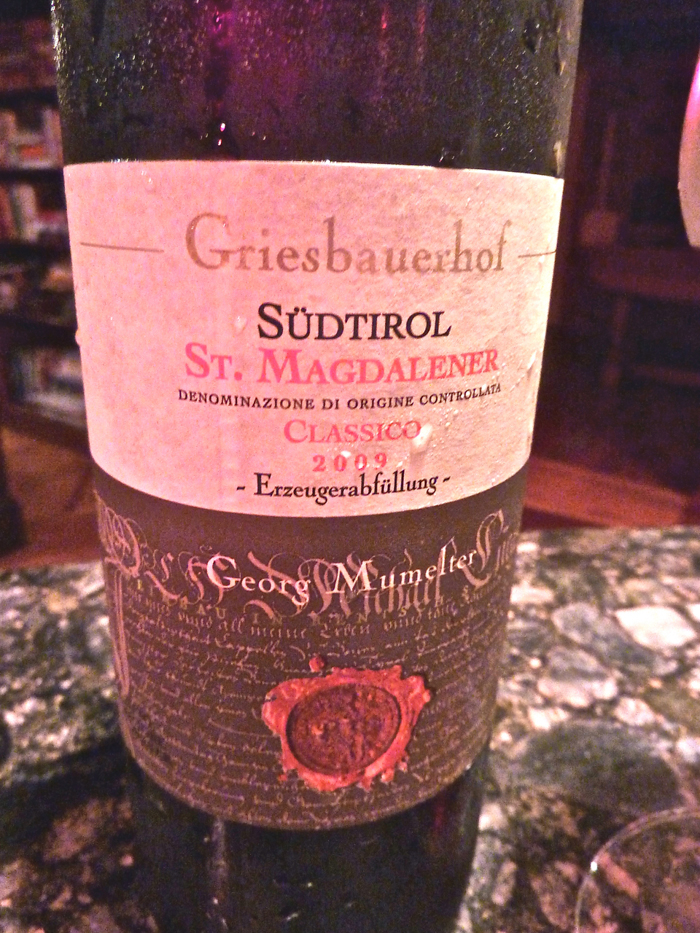 Some wine areas focus on producing wines that are impressive all on their own, huge reds that can blow you away. You can find these in Italy, but these are balanced by an equal emphasis on producing wines that pair with food; that complement rather than overwhelm. This wine is one of the latter. I tasted the 2009 Georg Mumelter Griesbauerhof St. Magdelener (also called Santa Maddalena.) A blend of two varietals varietals rarely seen outside of these regions - Schiava and Lagrein - both of these made my list of the Top 10 Undiscovered Wines of Northeastern Italy. These varietals are grown here in Alto Adige, as well as in Germany, but are not commonly exported here, as they producer lighter bodied red wines, rather than the huge reds that are so in vogue here. The St. Magdelener is primarily Schiava, also known as Trollinger or Vernatsch, with about 10% Lagrein. It is a medium-bodied red, with lots of cherry and berry, followed by a slightly bitter finish. A spicy note, similar to a Pinot Noir, came through as well. It pairs perfectly with the Alto Adige speck (a smoked ham, similar to prosciutto), as well as lighter meats such as chicken and pork, a meat ragu over pasta, and even fish such as salmon.