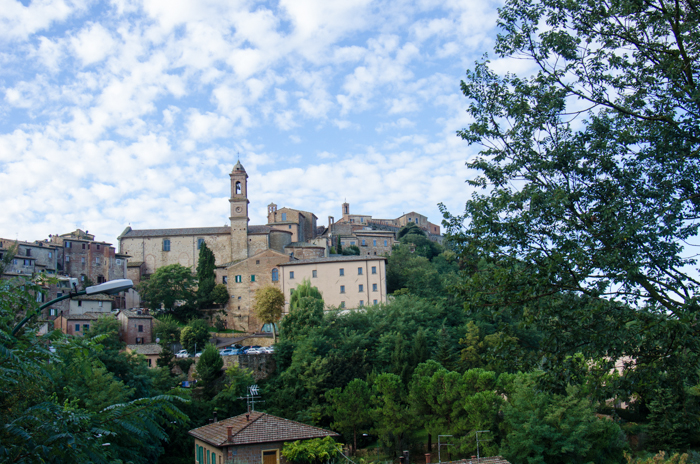 One of Italy's more prestigious wine zones, and a stop on our Bike the Wine Roads of Tuscany tour, is Montepulciano. Vino Nobile di Montepulciano, the noble wine from Montepulciano, obtained DOCG (Denominazione di Origine Controllata e Garantita; Denomination of Controlled and Guaranteed Origin) status in 1980.

This wine is produced in the vineyards surrounding the town of Montepulciano, Italy, a small area in south-east Tuscany.  The wine is made primarily from Sangiovese, which is known locally as Prugnolo gentile, blended with Canaiolo Nero and small amounts of other local varieties such as Mammolo. The wine is aged in oak barrels for 2 years; it earns riserva designation if it is aged for three years.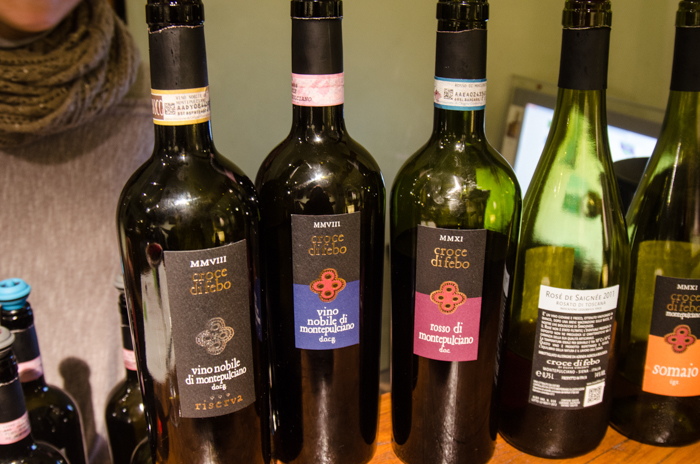 Montepulciano's history has always been closely linked to wine. Legend claims that the town was founded by Etruscan king Lars Porsenna, who is said to have moved from Chiusi onto the ancient hill of Mons Mercurius. The people of Chiusi followed, and later changed the name of the hill to Mont Politicus. Remains from Etruscan tombs near Montepulciano included wine cups  depicting the Etruscun god of wine, Flufluns.

A document dating back to 789 records the offer of a plot of farmland and a vineyard in Castello di Policiano to the to the Church of  San Silvestro in Lanciniano. In the mid 14th century, there are official regulations for trade and exportation of wines from Montepulciano. During the late Middle Ages the wines from this region, back then referred to as Rosso Scelto di Montepulciano, enjoyed a prestigious reputation, found on the tables of nobles as far away as England to the popes in Rome.

The name Vino Nobile di Montepulciano was invented in 1930 by Adamo Fanetti. In 1925, Fanetti produced about 30 tons of this wine, which he called Nobile, and bottled and sold for two IT Lire a bottle. It was a great success at the first trade show of wine held in Siena in 1931, organized by Ente Mostra-Mercato Nazionale dei Vini Tipici e Pregiati. Mr. Tancredi Biondi-Santi, a friend and admirer of Fanetti, said prophetically: "this wine will have a future." Fanetti must be considered the first producer of Vino Nobile di Montepulciano. In the years following World War I and II, Cantine Fanetti promoted Vino Nobile di Montepulciano all over the world. Other companies, which produced mostly Chianti, followed Adamo's example and in 1937 founded the Cantina di Montepulciano cooperative, creating a structure for the marketing of wine produced by small local farmers.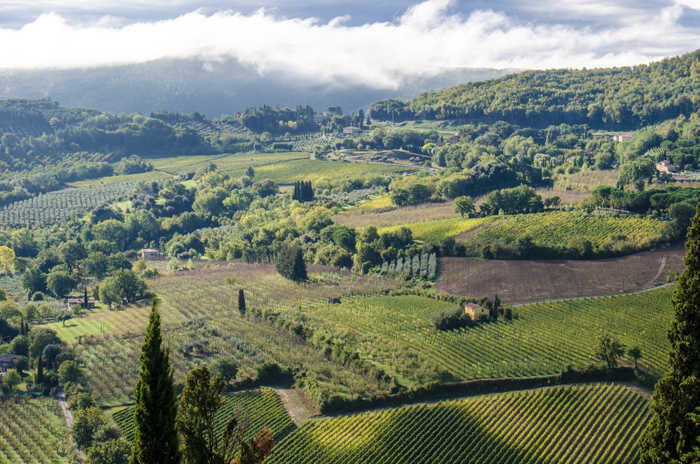 In the mid 1960s the DOC structure was created, and Vino Nobile received its DOC designation in 1966. The 1960s also brought a reawakening in winegrowing, and production moved towards Vino Nobile rather than Chianti. State and EU funds were used by the wineries to convert their vineyards into conformity with the requirements of the DOC (1966), enabled new wineries to enter the market.

Recognition of DOCG status came in 1980. In addition to this, the Rosso di Montepulciano DOC was created recognized red wines produced in the same region, where microclimates, exposure and altitude produce grapes that exhibit differenct characteristics. Along with a sweet vin santo, this small town continues its history as a wine producing center of the highest quality.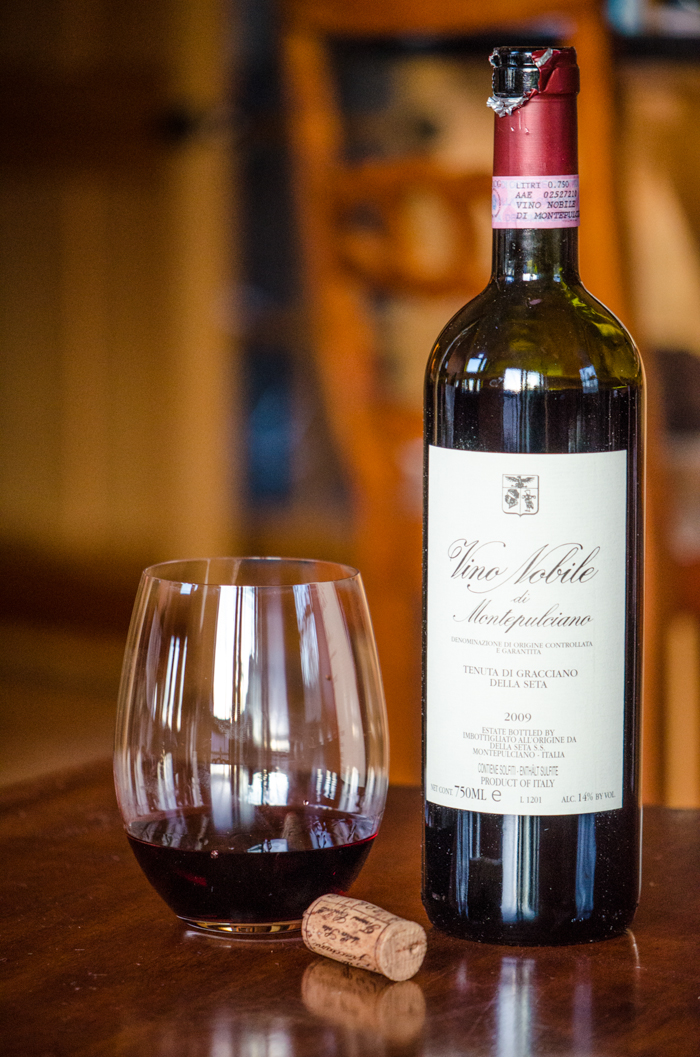 VINO NOBILE DI MONTEPULCIANO

On 12th July 1966, Vino Nobile di Montepulciano received its Denominazione di Origine Controllata (D.O.C.) designation. On 1st July 1980, Vino Nobile became the very first Italian wine to earn the Denominazione di Origine Controllata e Garantita (D.O.C.G.) which places it alongside the most prestigious wines in Italy and the world.

According to the current production regulations, the basic features of Vino Nobile di Montepulciano are as follows: A minimum of 70% Sangiovese, called Prugnolo Gentile in Montepulciano, blended with up to 30% of other varieties authorized for the Tuscany Region. The maximum permitted yield per hectare is 80 quintals with an effective yield in wine of 70%.
Vino Nobile wine can only be sold after aging for two years (three for the Riserva) and only after passing a series of tests carried out by a ministerial board. Vinification and ageing must take place in the municipal area of Montepulciano.


ROSSO DI MONTEPULCIANO D.O.C.

Rosso di Montepulciano DOC is a relatively young wine with distinctive quality features. The production zone and grapes used are identical to the Nobile. Its typical characteristics are the freshness of a youthful wine alongside the elegance of Prugnolo Gentile, making this wine excellent value for money and ideally served with local dishes. The Rosso di Montepulciano is a perfect accompaniment for traditional Tuscan first courses, and its features are especially enhanced by meat sauces as well as cured meats and local cheeses.

VIN SANTO DI MONTEPULCIANO D.O.C.

Vin Santo is a sweet wine with a long history of production in Tuscany.  Once called the "wine of hospitality", it was used to warm up a passing stranger on his way down from the hills, celebrate some happy event, or make a toast on a Sunday after a special meal.

There are three distinct designations for Vin Santo in this region: Vin Santo di Montepulciano, Vin Santo di Montepulciano – Riserva, Vin Santo di Montepulciano – Occhio di Pernice. The first two use Malvasia Bianca, Grechetto bianco (called "Pulcinculo" in Montepulciano), and Trebbiano toscano grapes. All must be grown in the province of Siena. The "Occhio di Pernice" has a different combination of varieties: a minimum of 50% Sangiovese with other varieties grown in the region

The traditional fermentation method is extremely typical for Vin Santo wines: the harvested grapes are selected and hung up to dry in temperature- and humidity-controlled rooms. Drying concentrates the sugars, makes it possible to obtain the sugar levels necessary to make the wine. According to the specifications, the grapes must be pressed from December 1 for Vin Santo di Montepulciano and January 1 for the other two, then aged in wooden barrels (caratelli) with a minimum capacity of 75 litres for the Occhio di Pernice and maximum of 300 litres (Vin Santo di Montepulciano). The ageing period lasts for at least 3 years for the Vin Santo di Montepulciano, 5 years for the Riserva and 6 for the Occhio di Pernice.