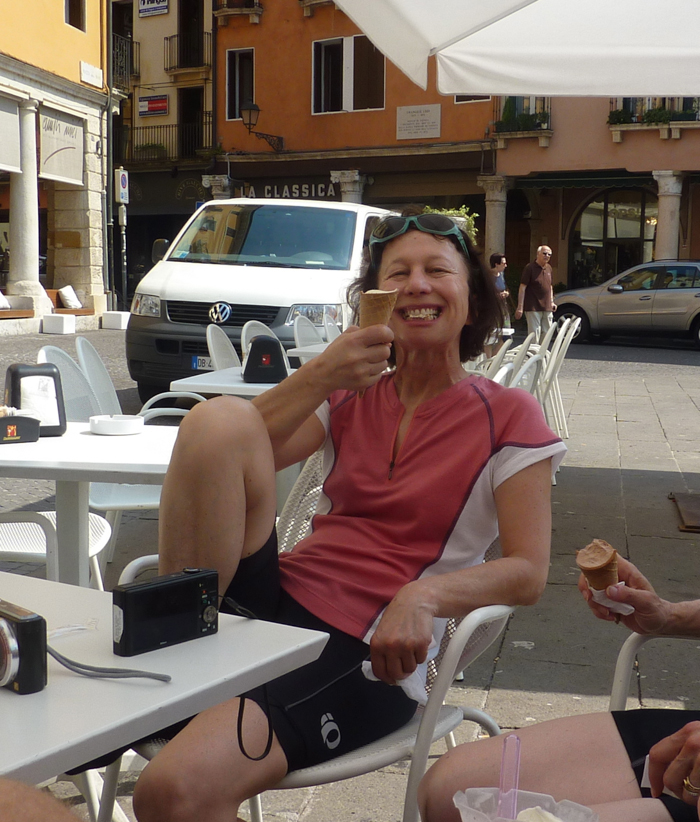 "To see Italy--the real Italy--you must live like an Italian.  With ItaliaOutdoors that is exactly what you get to do. Kathy and Vernon make the perfect pair with Vernon's insiders prowess of all things Italian and Kathy's quest for unknown wines and hidden artisanal treasures. From the first glass of prosecco on the terrace of the hotel overlooking olive groves, everything immediately feels different-pressures evaporate and adventure, challenges and enormous amounts of everyday culinary serendipity await. I'll never forget our first day of cycling. After climbing more than a few rolling hills through several vineyards (wines we would later try) we wound our way down the ridge, fig and olive trees everywhere, to the town of Mossano. We stopped at a small trattoria for a late morning refueling, not your typical American version of sunflower seeds and gatorade, but freshly baked bread with prosciutto & prosecco. The local men were sitting, sipping, talking, and simply taking in the morning. I was exactly were I wanted to be.

The authentic Italy, whether cruising on a magnificent, locally made road bike, sitting in a cafe, or cooking up fresh squash blossom frito, is effortlessly available for the taking. ItaliaOutdoors supplies the framework for the trip of a lifetime, leaving just the right amount of time and space for the unexpected. To feel as though you are part of the Italian culture is a testament to the insightful precision of a thoughtful journey-because in the end, its all about the roads taken.
I loved my journey!"
Susan Regis, Chef at UpStairs on the Square and James Beard Award winner, Cambridge, MA


"What a way to spend our 24th anniversary! And altho our biking skills are at the alpha and omega ends of the sport, we are still together!! Vernon and Kathy are wonderful together and your spirit, talent, enthusiasm and knowledge (and encouragement in things sport and culinary) made for a wonderful experience."
A. and S.M., New York
"We cannot say enough good things about our trip to Veneto for the Amarone bike-wine country tour to celebrate my better half's 50th birthday.  Weather was perfect for October and the mood of our 7 other traveling companions was right for a good time.  The variety of our experiences on this trip is what I will remember most. 
On our trip, we had the freedom to do what we want, but with Vern's and Kathy's help and direction, if needed.  That's the balance we were hoping for on our memorable trip.
Definitely looking forward to planning our next Italian wine bike adventure with Italiaoutdoors Food and Wine to celebrate my 50th in 2016."
C. and L. Norman, New Jersey
"We can hardly find the words to explain what a fantastic trip this has been. We were looking for a memorable way to spend our 40th anniversary and indeed we found it. The biking, cooking, eating, touring were all incredible, but it was the people that really made it special. Thanks for everything and we hope to see you all again soon.

We find that we've been overwhelmed by the experience. Warm fellowships, superb coaching, gorgeous landscapes! Can't wait for the next one!"
B. and M.H., Belmont
"My husband and I toured the Veneto with Italiaoutdoors, featuring chef Jody Adams, last fall. We had a spectacular spin - all we ate, drank, saw, smelled - beyond all hopes and expectations. The program was very high quality, thoroughly considered start to finish. Kathy and Vernon are so personable, knowledgeable and capable. We look forward to doing another tour with them in the near future!"
C.B., South Shore

"Italy is always magical but this week created memories of a lifetime. Vernon and Kathy's exceptional organization made for a wonderful experience. They brought order out of chaos, and allowed busy and preoccupied guests to enjoy a week of relaxation and fun. "Thanks" is inadequate to express my appreciation."
D.R., Boston

"Felt a great sense of accomplishment – unexpected. Great people, great food, wonderful sights. Hate leaving, but will treasure the memories."
I. and R. L., Boston

"A remarkable week of new sights, new foods and new friends. Perfectly planned and executed, not a detail left to chance. I can't imagine a better vacation... spending time in one of the most beautiful regions of Italy. My deepest thanks for an unforgettable experience. Can't wait to do it all again."
S.D., Plymouth