Whether we are exploring the lake region of Northeastern Italy - Como, Iseo, and Garda, or planning your ascent of Stelvio, the region of Lombardia offers ample opportunity to discover some lovely wines during our Italy cycling tours. One of my favorites is the wonderful sparkling wines from Franciacorta.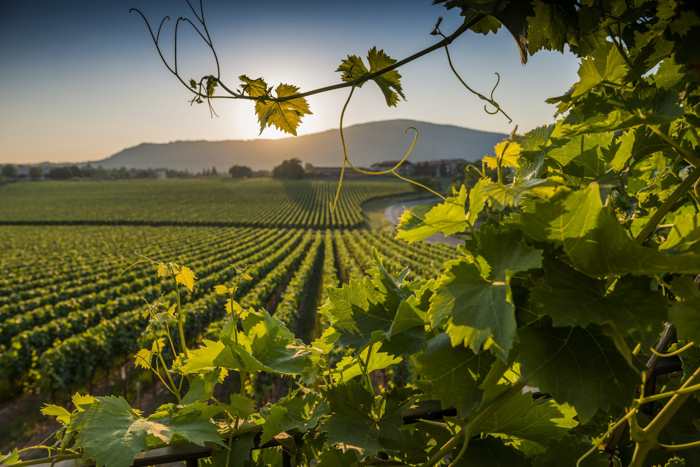 Franciacorta is a sparkling wine with DOCG status produced from grapes grown within the territory of Franciacorta, a handful of communes on the hills south of Lake Iseo, east of Milan. It owes its beauty, and its quality wines, in part to its enviable location - in the heart of Italy's celebrated Lake District, with small Lago d'Iseo immediately to it's rear, the larger lakes of Garda and Como act as a buffer against the frigid climate of the Italian Alps. Tucked between these imposing mountains to the north and the Pianura Padana plains to the south, Franciacorta experiences dramatic variation between daytime and nighttime temperatures. Air currents caused by these temperature variations along with gentle breezes from the lakes help control humidity and keep the vines aerated and healthy.

The still wines from this area have ancient traditions, with wine from this region mentioned in writings of the ancient Roman poet Virgil (70BC - 19 BC). The name itself, "Franciacorta" from the Latin francae curtae, was first used to refer to this area in 1277 when this area was a tax free zone along northern Italy's trade routes.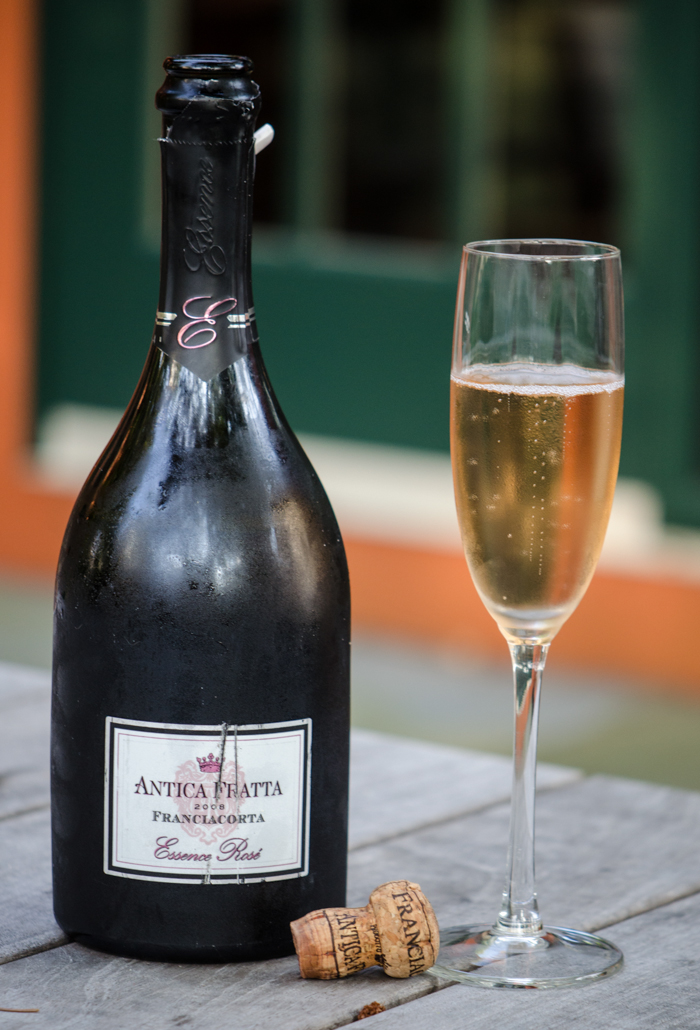 In the 1950's several entrepreneurial locals, in the midst of the post-war economic revival of northern Italy, began to produce wines under the Franciacorta name. Several of these wine producers aspired to produce a world class sparkling wine, the equal of the renowned Champagnes from France. In 1961, a young winemaker working for Berlucchi, Franco Ziliani, produced the first bottle of metodo classico sparkling in Franciacorta, then called Pinot di Franciacorta. Several other producers rapidly came on board, and by the time the region was granted DOC status in 1967 there were 11 producers of sparkling Franciacorta.

Franciacorta became the first DOC to specify that its sparkling wines must be made by Metodo Classico. Metodo classico in Italian, or méthode Champenoise or méthode traditionnelle in French, refers to a specific manner of sparkling wine production in which the second alcoholic fermentation occurs in the individual bottles. Carbon dioxide becomes trapped within the wine,
resulting in fine and long-lasting bubbles. Prosecco and many other more affordable sparkling wines are made using the Charmat method (or metodo Martinotti) in which secondary fermentation occurs in large pressurized tanks instead, a much less labor intensive (and therefore less expensive) process.

In 1990, the Consorzio per la tutela del Franciacorta was formed, and new regulations on content and yield led to elevation of sparkling Franciacorta to DOCG status in 1995. The DOCG vineyard are is only 2,200 hectares (5,400 acres) and permitted grape varieties are 85% Chardonnay, 10% Pinot Nero and 5% Pinot Bianco.

Franciacorta wines are either non vintage, released at a minimum of 25 months after harvest, or vintage (millesimato). Vintage Franciacorta is released 37 months after the harvest, and like Champagne, must see prolonged contact with yeasts in the bottle - 18 months for non vintage and 30 months for millesimato - for increased depth, persistence and elegance.

Rosé Franciacorta contains at least 15% Pinot Nero, while Satèn is a blanc de blancs. This means it must be made entirely from the white grape varieties Chardonnay and/or Pinot Bianco and is produced with slightly less pressure for a slightly softer and creamier mouth feel. Producers have the option of making a Riserva, the fourth category of Franciacorta.

Dosage levels, a general measure of the wine's sweetness, reflect those of Champagne, with the terms Pas Dosé, Dosage Zéro, Pas Opéré, Nature, Extra Brut, Brut, Extra Dry, Sec and Demi-Sec all being used.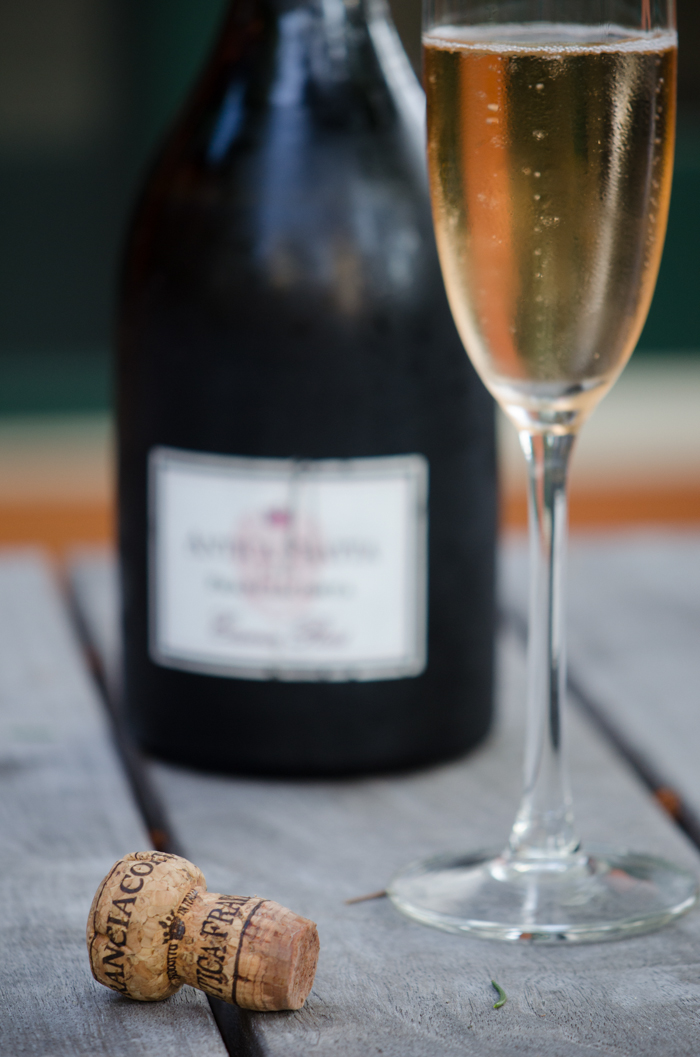 Since August 1, 2003, Franciacorta has been the only Italian wine not obliged to declare its DOCG appellation on the label, in the same manner that a Champagne is permitted to exclude from labels its AOC. Since it's inception, the wine has grown rapidly, with sales of Franciacorta wines increasing from 2.9 million bottles in 1996 to 6.7 million in 2003.

With the creation of the Franciacorta DOCG for sparkling wines, the former DOC was renamed Terre di Franciacorta for the still wines and then in 2008, Curtefranca. There are two types as defined by these regulations, a Bianco and a Rosso.

Curtefranca Bianco DOC: Curtefranca Bianco is a fruity and fresh wine that is best as very young. The grape varietals allowed are Chardonnay, Pinot Bianco, Pinot Nero (100%), or a blend of these three.

Curtefranca Rosso DOC: These are an interesting blend of grapes: Cabernet Sauvignon and Cabernet Franc (25-70%), Barbera (0-55%), Merlot (0-55%), Nebbiolo (15-25%) and other grapes up to 15%. When young, they are fresh and ruby red with purple hints which deepen with age. The taste is dry, vinous, and balanced with medium body. The scent is fruity with herbal notes.