The Consorzio Viticoltori Alto Adige was established in 1984 and includes six Alto Adige producers. In this consortium, these six producers work cooperatively to bring new cultivation and production methods in an effort to bring the highest quality wines to market. Each of the six growers are highly specialized, and represent very typical wines of this region. Vinification of the wines, up until the bottling takes place at the various estates' cellars, in order maintain their individual traditions and techniques, while bottling of the finished wines is carried out at the Appiano headquarters.

One area in which this consortium is innovating is in the area of insect and disease control. The Alto Adige region itself supports its local growers with consultants to advise them on pest control, trying to reduce and eventually eliminate the need for harmful chemical, especially in vineyards that are close to towns and villages. Today, cover crops (grass cover) are left on the rows between the vines in 98% of the vineyards. This protects the soil from erosion, increases the humus content and creates ideal habitat for beneficial insects. With targeted, organic fertilizing, deficiencies in the soil are alleviated and the vines are fertilized. Integrated insect and disease control (lotta integrata) is followed. Pesticides can only be applied when the need for them has been proven, and. organic pesticides are preferred over chemical.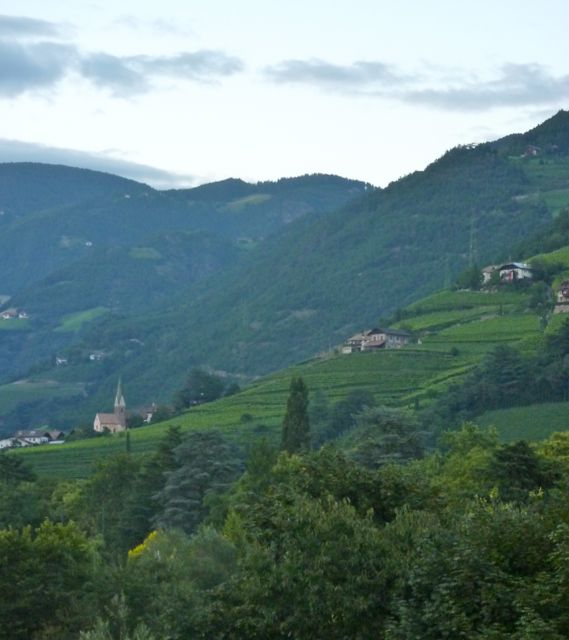 The Alto Adige Schiava San Pietro is a great example of the Schiava varietal. I tasted the 2009 vintage, which is 95% Schiava, with a touch (5%) of Lagrein. This wine i produced from grapes grown on the south and southeast facing slopes of Santa Maddalena, just outside of Bolzano. Schiava wines are on the light side, and this is true to form; a lovely ruby red. A fruity, cherry nose with a bit of spice. A lighter bodied red, with a velvety fruit palate, and an elegant, slightly bitter finish. Well-balanced. This would pair nicely with a salad with grilled meat, a pasta with a meat sauce, and soft cheeses.