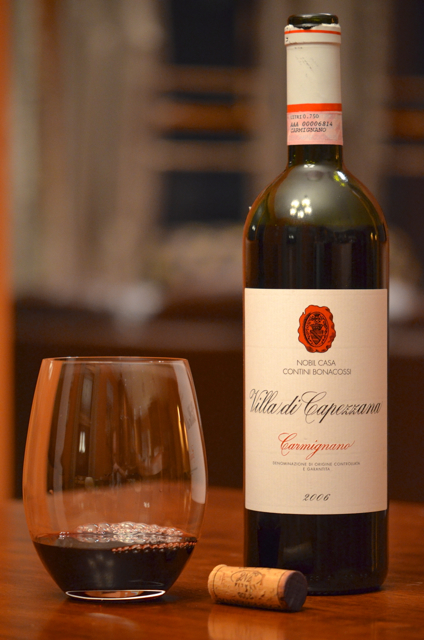 One of the most distinguished of the Tuscan wine zones, the Carmignano DOCG is barely 100 hectares, and consists of only 20 producers in total. The leading producer in this appellation is Capezzana, an estate that is responsible for nearly 50% of this regions' total production. The Capezzana estate itself is over 1200 years old, and has been producing both wine and olive oil since 804 AD. Today the estate is owned by the Contini Bonacossi family, who purchased it, and several surrounding farms, in the 1920s. In 1932, when the modern day Chianti Classico region was defined, this area was included in the Chianti Montalbano sub-zone. The Bonacossi's, not wishing the distinctive nature of their wines to be lost in the larger population of Chianti, successfully fought for DOC, and then DOCG recognition, under the original Carmignano name.

Today the Bonacossi family produces both wines and olive oils on their estate. In addition to their Villa di Capezzana Carmignano DOCG wine, they make a younger version of the Carmignano, a Barco Reale, with it's own DOC status. They also offer a Bordeaux style wine, their Ghiaie della Furba, as well as Trebbiano based whites, a Vin Santo, and a grappa.

I have tasted the 2006 Villa di Capezzana Carmignano. Carmignano is a Sangiovese based wine, with a bit of Cabernet Sauvignon or Cabernet France; the first 'Super Tuscan', so to speak. The 2006 Villa di Capezzana Carmignano is 80% Sangiovese, 20% Cabernet Sauvignon. Cultivated in hillside vineyards in Carmignano, this wine is aged in french oak barrels for a year, then an additional year in the bottle. It is a dark ruby red color, with aromas of dark cherry and fruit, leather, and smoke. Medium-bodied, and full of fruit flavor, spicy, it is a beautiful and elegant wine. Perfect with meat dishes, aged cheeses, and pastas with meat ragu.