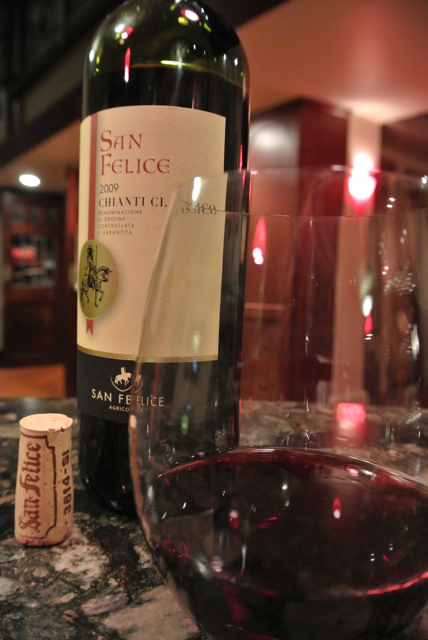 The estate of San Felice lies in the heart of of the Chianti Classico DOCG zone, within the commune of Castelnuovo Berardenga. Documents dating back to the 10th century are evidence that wine production has been an important part of the economy here for over a thousan years, as they identify Pieve San Felice, named after martyr San Felice da Nola, as one of the oldest Chianti area estates. The area changed hands many times over the next centuries, eventually developing into a very successful enterprise under the guidance of the Del Taja family, who are among the founders of the Consorzio del Chianti Classico, creators of the black rooster logo that adorns the label across the cork of each bottle of Classico.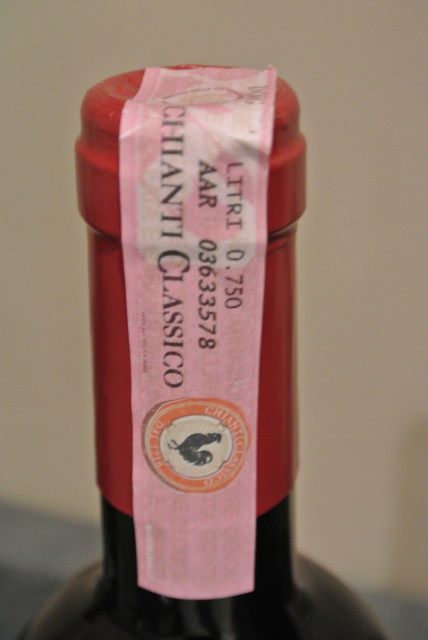 I had the pleasure of staying at San Felice in 2003, as I toured the Tuscany region with my friend, Chef Jody Adams. We visited quite a few wineries on our 10 day adventure. San Felice supplied us a cozy guest house for two nights, and we toured their production facilities, and dined with their then head of marketing, Coda Nunziante, in nearby Siena. He shared with us the history and philosophy of San Felice.

The prosperous period of wine production in the Chianti region went through a period of steep decline after World War II. In an effort to recover, local producers focused on quantity, not quality production - recall the straw-covered bottles (appropriately called a fiasco) of cheap Chianti that were popular in the US in the 60s and 70s. The wine economy in this region was in disarray, and many local farmers could no longer afford to keep their farms. In 1968, a large insurance company purchased many of these farms for a rock bottom price, and formed Agricola San Felice. In addition, they purchased the entire town of San Felice, which is now used as their very exclusive Relais & Chateaux hotel, with about 50 guest rooms and a high end restaurant. These were closed for the season when we visited in November, so unfortunately we did not get to experience the restaurant.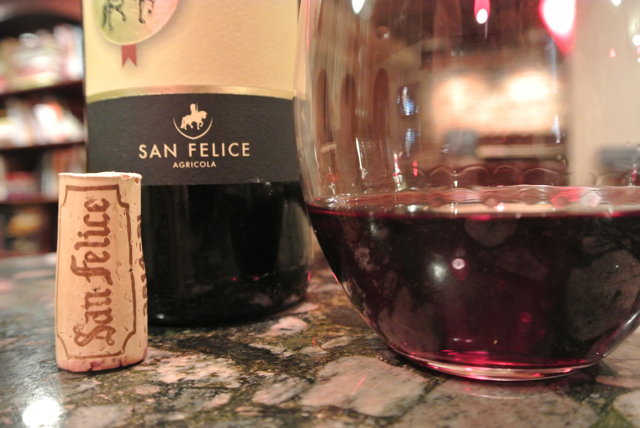 The San Felice company has continued to grow since its inception. In 1978, they were acquired by their current owners, RAS. That year, they initiated a restructuring of the winery, from an entity largely focused on quantity to one fully dedicated to high quality. San Felice dedicated many resources to systematic scientific research, directed toward developing the full potential of the Sangiovese varietal. In addition, they have devoted a percentage of their acreage to experiments to reintroduce some older, little used grape varieties, in an effort to resurrect some of these as wine-production grapes once more. This has resulted in continuing success and increasing recognition in both the Italian and global markets.

More than 70% of the estate vineyards are devoted to cultivation of Sangiovese, but San Felice has added other native grapes over the years, such as Colorino, currently the subject of experimental research. In addition, several international varieties have shown notable success in acclimatizing to the local terroir, including Cabernet Sauvignon, Merlot, Chardonnay and Sauvignon Blanc.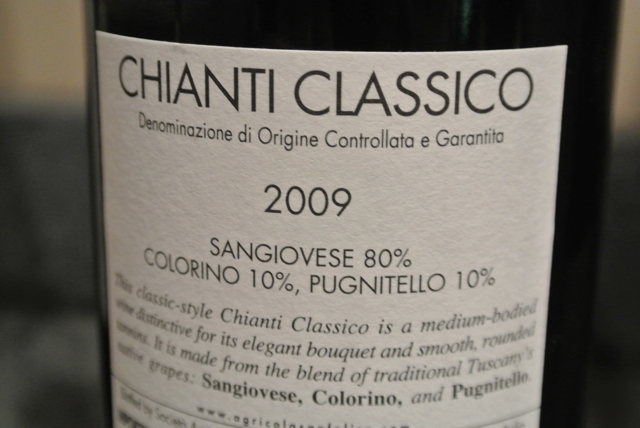 I tasted the 2009 San Felice Chianti Classico. This is a blend of 80% Sangiovese, with the addition of two traditional varietals in equal parts - Colorino and Pugnitello. The Chianti Classico is a deep, bright ruby red, with an aroma a balance of dark fruit and vegetal notes. Medium body, elegant, with a crisp acidity. Cherry, a bit of dried fruit, and spice. A well-rounded, persistent finish. Would pair well with simple food, which is characteristic of Tuscany - grilled steak, pasta with a meat ragu, or flavorful slow cooked beans.

During our visit to San Felice, we tasted an earlier vintage of the Classico, as well as their Il Grigio Chianti Classico Riserva. This was 100% Sangiovese, from the estates most outstanding vineyards, with 38 months of aging required to earn the Riserva appellation. It had a similar flavor profile to the 'standard' Classico, dark fruits, wonderful spices, but much more complex and full bodied. A wonderful wine to enjoy with the local specialty Chianina beef, wood grilled and served rare.